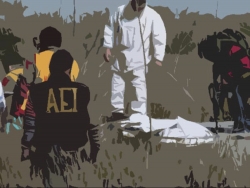 Houston, TX, September 19, 2015 --(
PR.com
)-- Artist Luz María Sánchez opens her latest show: detritus today, September 19, 2015 from 7- 9 pm at She Works Flexible gallery in Houston, Texas. detritus explores how the violence of the Mexican drug war is portrayed in the Mexican media. The piece is part of a two-artists exhibition – with artist Maja Ruznic– entitled by its curator Lynne McCabe as "Ya nos llevó el Nahual/ Babaroga je dosla (the Boogeyman is here)."
detritus is a multi-media installation that pulls images from the 2006-2012 "war on drugs" in Mexico, declared by [then] President Felipe Calderón. The images are pulled from digital sources, taken directly from online publications, and flash at random in two second intervals, illustrating without a narrative the ongoing situation of these six years in which more than 60,000 civilians lost their lives.
Artist Luz María Sánchez was born in Guadalajara, Mexico. She studied music and literature, and made her doctoral studies at the Universidad Autónoma de Barcelona, in Spain. Sánchez works with themes such as the Mexican diaspora, violence in the Americas, and the failure of Nation-states. She employs both sound as well as the moving image in order to create a full sensory experience, thus imbuing the work with a physical immediacy in the face of political trauma.
Luz María Sánchez is a US resident who splits her time between Texas and Mexico City. Her work has been shown around the globe and has been included in major international sound and music festivals. In 2014 she received the first prize award for the inaugural Bienal de las Fronteras, and in 2015 she was selected as an Arts Member of the National System of Art Creators by the National Institute of Arts and Culture in Mexico. Sánchez has just recently been selected for the "Climate Change Art Commission" by San Antonio's Land Heritage Institute to create an outdoor piece on their 1200 acre living museum property.
The opening of "detritus" in Houston is Sánchez' second exhibition this month in Texas. The artist is concurrently showing "diaspora" at Artpace San Antonio, where Amada Cruz selected her pieces "2487" and "riverbank," made during Sanchez Artpace Residency in 2006, as some of the most emblematic to be exhibited during the celebration of Artpace's 20th anniversary - and which are now part of the Linda Pace Foundation collection.
She Works Flexible is a site for discourse and poetic exchange. As a commercial contemporary art gallery under the direction of Lynne McCabe they are invested in using the framework of the conversation as a tactic to create a space of negotiation and equivalence between artists, writers, and collectors. Dedicated to showing work from artists based or connected to Texas and the Gulf Coast region in dialogue with national and international artists, writers, musicians, filmmakers and chefs, She Works Flexible believes firmly that the conversation offers a collaborative structure potent with possibility.
Opening Information: Friday, September 18, 2015, 7-9 pm at She Works Flexible Gallery at 1709 Westheimer Road, Houston, TX 77098. Exhibition runs through November 7, 2015.
luzmariasanchez.com
sheworksgallery.com