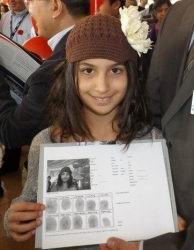 Houston, TX, September 23, 2015 --(
PR.com
)-- Operation Kidsafe Safety Cards will be printed on site for parents. This bio doc will have the child's fingerprints and photo. Also safety tips.
Quality Wellness will help families develop and promote proper thinking, physical education and family fitness.
Chick-Fil-A will be giving free sandwich cards.
Safe Kids Greater Houston, led by Texas Children's Hospital was established in 1998 to work on a local level at preventing unintentional child injuries and deaths.
Child Passenger Safety (Car Seats)
Home Safety
Fire Safety
Water Safety
Pedestrian and Wheeled Sports Safety
Event flyer is attached. You can get location information and check out all the great partners that will be at this event with Safety, Health and wellness information.
Special equipment is being shipped in and will be available only the day listed. This is a rare chance to get a lifetime Safety Bio Document for your child with photo and digital fingerprints. Totally Free and Private.
Don't miss this big event.
Southeast Volunteer
Fire Department
10510 Scarsdale Blvd
Houston, TX 77089
(832)-619-1397
A Big Thank You to: Steve Sipes - State Farm
Saturday
October 10th
10am-4pm