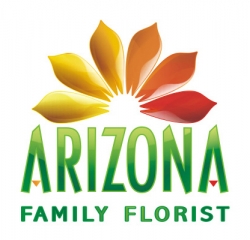 Phoenix, AZ, September 23, 2015 --(
PR.com
)-- Local multi-channel floral and gift retailer, Arizona Family Florist, is proud to announce its support of the Hispanic Women's Corporation (HWC) Scholarship Luncheon being held on Friday, September 25th at the Phoenix Convention Center. HWC is dedicated to mentoring young Hispanic women & men, on both the professional and personal level. One of the many ways HWC achieves their goals is through the endowment of academic scholarships to qualified candidates in the Latino community. HWC bestows as many as 50 individual scholarships to worthy recipients every year, ranging from $1,000 to $20,000. This luncheon will recognize and honor these individuals by helping them continue on the road to socioeconomic success through higher education. To apply, visit: www.hispanicwomen.org.
Arizona Family Florist owner and fellow Latina, Cheryl Denham, said this event is a perfect opportunity to strengthen her connection to her Hispanic heritage, while providing a valuable addition to the luncheon by donating the floral centerpieces for the 150 table event. "I am thrilled that we are able to give back to the community by doing what I love, creating beautiful floral designs." Arizona Family Florist was recently listed as the 8th largest minority owned business in the state of Arizona by Republic Media's Who's Who in Business.
Linda Mazon Gutierrez, President & CEO of HWC added, "In addition to the Scholarship Benefit Luncheon, there is a full, 2-day event featuring the Latina Power Expo, with exhibitors showcasing everything from health & well-being, to career resources, to sustainability. In addition, we offer valuable workshops covering topics such as managerial training and personal & professional development. Our sponsors range from globally recognized brands such as Coca Cola, Wells Fargo and State Farm, to local media outlets, Univision, Telemundo, ABC15, Mixed Voces, La Voz & La Campesina radio."
Arizona Family Florist was founded in 2005 and has quickly become one of the industry's leading floral and gift providers. Their multi-channel approach to retailing has spawned a diverse family of brands all housed under one roof, dubbed the Phoenix Flower District. Their brands include Arizona Flower Market, a wholesale flower and décor market open to the public, LUX Wedding Florist, an award-winning, full-service bridal & event floral design studio, as well as Fantastic Fruit.
To learn more about Arizona Family Florist or their family of brands visit
www.azfamilyflorist.com