Teen Success Inc. Celebrates the Accomplishments of Central Valley Teen Moms
Teen mothers share their stories and their successes with supporters and members of the Fresno community during the Open House at Fresno Barrios Unidos on Wednesday, September 30th.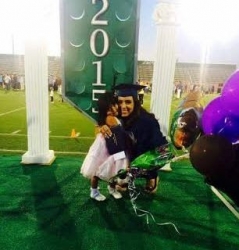 Fresno, CA, September 25, 2015 --(
PR.com
)-- On Wednesday, September 30th at 5:00 p.m., teenage mothers participating in Teen Success, Inc.'s Central Valley program will speak to members of the community and supporters about the positive changes they are making in their lives toward education, self-sufficiency, and becoming valued members of society.
"The Central Valley is home to the highest rates of teen pregnancy in the state," explains Teen Success, Inc. founder, Becky Morgan, who will also speak at Wednesday's Open House. "Teen Success, Inc. is offering much needed support to this vulnerable population of teens."
"Being a teen parent has been very tough," explains Teen Success, Inc. participant, Veronica Delatorre (17). "Luckily I found support through Teen Success, Inc. Teen Success has impacted me in many ways. They have been a family to me. They have taught me to accomplish my goals and to challenge the statistics about teen parents. Teen Success helped me learn new things about parenting and how to protect my child and myself."
Teen Success, Inc. operates in the Central Valley with local partners, like Fresno Barrios Unidos, providing training and orientation, ongoing support and technical assistance, and funding. With these valuable partners, Teen Success, Inc.'s 2014-15 program year has:
• Served 235 teen mothers and their children in the Central Valley.
• Provided 5 of our Central Valley teen moms with college scholarships.
• Helped more teen moms graduate. 94% of members who have completed the program have graduated high school or are working towards graduation, as compared to 40% of teen mothers nationally.
• Helped with family planning. Only 3% of Teen Success, Inc. members have had a second pregnancy, as compared to 18% of teen mothers nationally.
• Boosted confidence and planning. 98% of members report having a plan to advance their education/career. 95% of members report reading to their child regularly.
The public is invited to visit the Open House from 5:00 – 7:00 p.m. at Fresno Barrios Unidos (4415 East Tulare Avenue Fresno, CA 93702) and learn more about Teen Success, Inc. and its educational and transformative programming. For more information, please visit our website: http://www.teensuccess.org
About Teen Success, Inc.
Established in 2011, Teen Success, Inc. is a nonprofit organization that supports teen mothers and their children to get on the pathway to selfsufficiency and success. Teen Success, Inc. provides a peer support group program that addresses education and career, parenting, goal setting, and health and wellness. Teen Success, Inc. uses a strengths-based approach that respects, values, and harnesses the teen mother's own potential in order to shape her and her child's future. The program offers teen mothers membership into a support group in which they are mentored by professional facilitators and develop trusting, supportive relationships with their peers, who together inspire and empower them to reach their potential. http://www.teensuccess.org
Contact
Teen Success
Jaime Kemmer Woods
408-263-8330
teensuccess.org

Contact