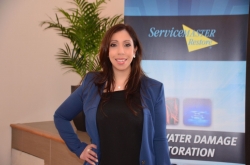 Chicago, IL, September 25, 2015 --(
PR.com
)-- When Diana Rodriguez-Zaba began her business, ServiceMaster Restoration by Zaba 5 years ago in an office the size of a closet, she had big dreams. Now, as one of the largest franchise owners in Illinois, and still growing Rodriguez-Zaba has not stopped dreaming and she continues to push herself to greater achievements.
It's only suitable that this ambitious Chicago native would be the only Hispanic female to graduate this fall's inaugural class of Crain's Leadership Academy, a division of Crain's Chicago Business along with 43 other senior leaders. The Crain's Leadership Program brings the best of personal development, professional networking, leadership exposure and civic outreach through discovery sessions and guest CEO speakers.
Rodriguez-Zaba, co-founder and CEO of ServiceMaster Restoration by Zaba is committed to providing excellence to each and every customer. She does this daily by offering superior products, going above and beyond for each customer and managing a team of professional technicians.
Rodriguez-Zaba is so committed to Chicago and surrounding suburbs that she makes civic outreach and professional development a priority.
Through the six-week intensive experience, Rodriguez-Zaba was recognized as an up and coming leader in Chicago, she expanded her network and is eager to bring many of the skills and strategies she learned to improve ServiceMaster Restoration by Zaba's operations.
"I am proud to have been part of a group of like-minded professionals and emerging leaders in their company and industry," said Rodriguez-Zaba.
Diana Rodriguez-Zaba is also a recipient of the Goldman Sachs 10,000 Small Business Program Scholarship. This program will cover economic growth and job-creation and provide participants with access to great business resources, financial capital and business resources for the growth of their companies.
ServiceMaster Restoration by Zaba is a minority business and family-owned restoration and specialty cleaning company. They have offices located in Chicago, IL and Suburbs, and can mobilize immediately to any Commercial or Residential disaster. No Job is too big or too small, they will work with you to get the job done from start to finish. They handle large insurance losses and work closely with insurance adjusters, managers, building owners, developers, condo-associations, homeowners and renters. They also offer specialized structural cleaning, post construction clean up, hoarder clean up, duct cleaning and general cleaning, estate cleaning and carpet cleaning.
For more information of ServiceMaster Restoration by Zaba, visit www.servicemasterbyzaba.com
For more information about the Crain's Academy, visit www.crainsacademy.com