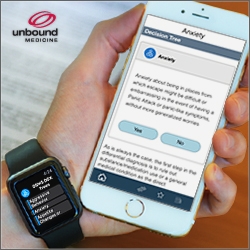 Charlottesville, VA, September 30, 2015 --(
PR.com
)--
Unbound Medicine
, a leader in knowledge management solutions for health care, today launched a leading-edge differential diagnosis app for health professionals in collaboration with the publishing arm of the American Psychiatric Association (APA). Derived from the Diagnostic and Statistical Manual of Mental Disorders, Fifth Edition (DSM-5®) Handbook of Differential Diagnosis, the app combines interactive guidance with expert commentary, enabling clinicians to perform faster and more accurate psychiatric diagnoses at the point of care.
Utilizing a proven six-step diagnostic framework, the DSM-5 Differential Diagnosis App guides users through interactive decision trees and provides differential diagnosis suggestions for common psychiatric symptoms. After download, clinicians can use the app on a smartphone, tablet, or even the new Apple Watch - all without the need for an internet connection.
"The DSM differential diagnosis content was developed to help clinicians improve diagnostic skills and to foster correct use of the new DSM-5 classification system," said Michael B. First, MD, editorial and coding consultant for DSM-5 and professor of clinical psychiatry at Columbia University, and the author of the DSM-5 Handbook of Differential Diagnosis. "Unbound Medicine has extended this concept greatly by making the diagnostic decision trees interactive and available in the hand and on the wrist."
The interactive decision support module debuting in the app represents a significant expansion of the Unbound™ platform. Partners such as APA | Publishing are now able to create interactive algorithms, flow charts, and decision trees using Unbound's online authoring system, uPub™, and then publish these tools regularly to smartphones, tablets, wearables, and the web.
"We are delighted to partner with the American Psychiatric Association in support of accurate and timely psychiatric diagnosis at the point of care," said Bill Detmer, MD, president of Unbound Medicine. "On-device diagnostic support should help clinicians take full advantage of both APA expert guidance and the DSM-5 classification during daily practice and teaching."
"We are very pleased to be collaborating with Unbound Medicine in providing psychiatrists and other mental health care providers with this app, derived from our DSM-5® Handbook of Differential Diagnosis," said Patrick Hansard, director of sales & marketing for APA | Publishing. "This new app helps clinicians in reaching quick and accurate diagnoses. Working in collaboration with Unbound Medicine has allowed us to provide mental health professionals with an effective tool, to the benefit of practitioners and the well-being of patients."
Visit the DSM-5 Differential Diagnosis app
product page to view a preview video featuring the interactive algorithms on an iPhone® and Apple Watch. Contact
sales@unboundmedicine.com
for information regarding institution-wide access.
About Unbound Medicine
Unbound Medicine builds digital products that answer clinical questions at the point of need. With expertise in medical informatics, health technology, and medical publishing, our team has delivered innovative mobile and web solutions to health care institutions and individual clinicians for more than 15 years. Additional information is available at
www.unboundmedicine.com
.
American Psychiatric Association Publishing
American Psychiatric Association Publishing is the world's premier publisher of books, journals, and online products on psychiatry, mental health and behavioral science. We offer authoritative, up-to-date and affordable information geared toward psychiatrists, other mental health professionals, psychiatric residents, medical students and the general public. Additional information is available at
www.appi.org
.