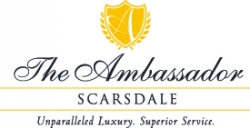 Scarsdale, NY, October 07, 2015 --(
PR.com
)--
The Ambassador of Scarsdale
, a luxurious assisted living community in the Village of Scarsdale in Westchester County, announced this week its two yearlong initiative in collaboration with Kerry Mills, founder of Engaging Alzheimer's, LLC.(www.EngagingAlzheimers.com), to design a dementia-focused care program specifically for The Ambassador of Scarsdale's Keepsake Program.
The announcement was made by Jean Dunphy, General Manager of The Ambassador of Scarsdale who said, "The Come Alongside method of training and development of staff and care partners was chosen for its creative approach to this bewildering diagnosis and its impact on families and care partners. We are sincerely committed to developing and implementing best practices and capturing outcomes so methods may be shared and used for the greater good as we as a society, struggle to deal with the impact of Alzheimer's and related disorders."
The Ambassador offers 95 studio, 1 and 2 bedroom assisted living apartments. The Ambassador also offers its Keepsake Program, situated in a separate wing with its own enclosed gardens, featuring 22 suites dedicated to residents with Alzheimer's and related disorders.
The Ambassador is licensed by New York State Department of Health as an Assisted Living Residence with dual certifications as Special Needs Assisted Living Residence (SNALR catering to residents with dementia diagnosis) and Enhanced Assisted Living Residence which allows residents to "age in place."
The Ambassador is located at 9 Saxon Wood Road, White Plains NY 10605. Located on seven acres bordering Saxon Wood Park, The Ambassador of Scarsdale's peaceful and bucolic setting creates an atmosphere of tranquility, but is within minutes of White Plains Hospital and just half an hour from Manhattan.