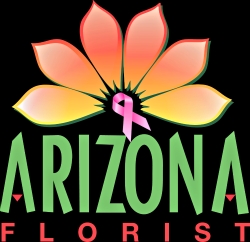 Phoenix, AZ, October 08, 2015 --(
PR.com
)-- Arizona Florist, the largest volume retail florist in Arizona, has launched a month-long Breast Cancer Awareness campaign to generate both awareness and donations toward cancer research and prevention. Awareness for the campaign, titled "AZ Florist Cares," will be generated with a comprehensive social media campaign and in-store promotion that includes employees. The first part of the campaign is designed to raise awareness and Arizona Florist will be giving away pink ribbon pins, bracelets and necklaces free to any customer who stops by the local retail store.
The second part of the campaign is to raise money for cancer research and prevention through the sale of items on Arizona Florist's website and in the retail store location. The campaign to raise funds will feature several pink florist-designed flower arrangements, as well as balloon bouquets on both the Arizona Florist website and Facebook page. Arizona Florist has committed to donate 50% of the proceeds from the sale of these featured florist-designed arrangements to the local chapter of American Cancer Society's Relay for Life organization. Chapter member and Survivor's Dinner organizer Susan Harty said, "Arizona Florist has always supported our cause and events with generous floral and monetary donations. Cheryl is very committed to our organization and we value her support."
Said Arizona Florist owner and cancer survivor, Cheryl Denham, "Cancer research & prevention is a cause that is near & dear to my heart and one that we have supported for years. Our goal is to inform customers who need to purchase flowers that not only can they give a gift of beauty, but also a gift of hope and life by purchasing a pink floral bouquet."
Customers who wish to contribute by making a purchase have several ways of doing so, they can call the shop at 602-507-4200, order online at
www.azflorist.com
, or come into the retail store and place an order in person for one of the pink florist designed bouquets.
For more information on Relay for Life or to make a direct donation, visit www.relayforlife.org.
Arizona Florist (azflorist.com) is a local retail florist and gift shop and is a division of parent company Arizona Family Florist located in Phoenix, AZ. Arizona Family Florist was founded in 2005 and has quickly become one of the industry's leading floral and gift providers. Their multi-channel approach to retailing has spawned a diverse family of brands including an all occasion floral delivery service, Arizona Florist, Arizona Flower Market, a wholesale market open to the public, award-winning, full service bridal & event floral design studio LUX Wedding Florist, as well as Fantastic Fruit. For more information on Arizona Family Florist visit www.azfamilyflorist.com