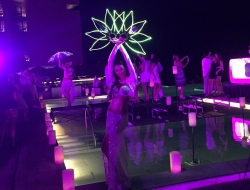 Los Angeles, CA, October 14, 2015 --(
PR.com
)-- The Dancing Fire dazzled VIP guests and government officials at the massive 2-day opening ceremony for the luxurious Grand Hyatt Playa del Carmen Resort in Mexico, Friday, October 9th. Since the luxury resorts soft opening on June 15th, the hotel has already played host to 33,000 tourists, which -- apart from its internationally high standards, gorgeous architecture, immaculate presentation, elaborate Mexican culinary walk and restaurants, and enormous 600 seat auditorium -- has led to its nomination for a World Travel Awards in the category of best new hotel for the Central region.
Following the ribbon cutting ceremony, The Dancing Fire showcased an array of breathtaking performance styles from water sphere, fire dancing, and a completely unique LED performance (in which they specially programmed the Grand Hyatt Playa del Carmen Resort's logo in). Attendees included representatives from the Hyatt firm, Tara Reid and several other celebrity guests, and VIP's: Governor Roberto Borge Angulo, Mayor Mauricio Escalante Gongora, Tourism Minister Francisco Maass Peña, Mayor of Solidarity Mauritius Gongora Escalante, and Senator Felix Gonzalez Canto. The Kardashian clan was also represented at the event, as Kris Kardashian and Caitlyn Jenner's son, Brody Jenner, was present DJing the party.
Brittany Chandler's Los Angeles based entertainment company, The Dancing Fire, is no stranger to performing at high profile events or creating customizable routines and performances for them, this grand opening ceremony just the latest on a much larger list. Their dedication, drive, and commitment to creating spectacular live performances has set The Dancing Fire apart as one of the premiere entertainment and dance companies in the United States, and their high reputation is steadily growing globally.
For more info about The Dancing Fire, upcoming shows, and how to book them for your event please visit www.thedancingfire.com, follow them on Facebook at Facebook.com/thedancingfirememphis, or following them on Twitter and Instagram @TheDancingFire.