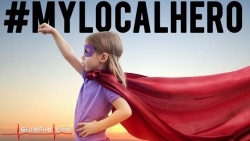 Orange County, CA, October 21, 2015 --(
PR.com
)-- Local CPR training company, SureFire CPR, recently launched a contest aimed at recognizing local residents that go the extra mile in their California community. The #MyLocalHero contest is meant to shine a light on these individuals.
Do you know someone that has helped your community in a significant way? Have they brought the standard of excellence up to a level you didn't know was possible? Have they helped someone before asking for help themselves? The hero in your community can be anyone: the single mother juggling her career with her family; the nurse that stayed by your side while you were ill; your co-worker that stays late to help their fellow employees.
If you know someone that fits this description, SureFire CPR wants to hear their stories for the #MyLocalHeroes contest.
How Do I Enter Someone Or Myself?
Submit a photo and description of your hero, whether that be someone you know or yourself, to the Facebook group and use #MyLocalHeroes.
When you submit your entry, either through the Facebook page or by using the hashtag #MyLocalHero, make sure to describe why your hero is being nominated, providing a heroic story if you can. Tell the people why your #MyLocalHero is the one they should vote for.
Visitors to the Facebook page will then vote on who they believe is the most heroic. The nominees with the most votes will be awarded $600, $300 and $100. Cash prizes are determined by the top 3 votes for the most heroic stories.
Who Can Enter?
You must be a resident of California and submit your entry within the state of California.
The contest will run between October 1st and November 30th, 11:56 pm, 2015. All #MyLocalHero entries must be submitted within this time frame. However voting will remain open until December 11th.
To sweeten the pot, this contest offers cash prizes for the Top 3 heroes nominated. Once the voting is complete, the winner of the contest will receive a cash prize of $600, while second place will receive $300 and third receives $100.
Why Should You Enter Your Hero?
A rising tide lifts all boats. By giving some kudos to local heroes, our communities can only be better served by its members. Submit your entry for the #MyLocalHero contest today for the chance to have your hero's story recognized and to win them a prize along the way.
Visit the
#MyLocalHero Page
for more information about the contest.
Remember, your hero can be anyone: your parent, friend, or co-worker. SureFire CPR wants to hear all stories because each and every act of kindness, no matter how large or small, helps to make our neighborhoods great. Each person has the power to change the world!
The #MyLocalHero contest is sponsored by SureFireCPR.com. If you choose to submit an entry into the contest, you are thus agreeing to follow all rules, eligibility, and requirements determined by SureFire CPR. You also acknowledge that the results are final. This contest abides by all federal, state and local laws and regulations and is void where prohibited by law.