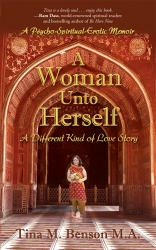 San Anselmo, CA, October 14, 2015 --(
PR.com
)-- Within 24 hours of its release, Tina Benson's very first book, "A Woman Unto Herself: A Different Kind of Love Story," hit the #1 bestseller ranking in the U.S. on Amazon in two categories, top 100 bestseller in 3 categories, and top 100 bestseller in the U.K.
"A Woman Unto Herself: A Different Kind of Love Story," launched live on Amazon 10/9/2015, reaching international bestseller status within 24 hours. "A Woman Unto Herself" is the heartbreaking account of one woman's journey to understanding how she fell in love with a narcissist, why she stayed in the relationship for so long, and how it related to her childhood traumas and losses. Using her 30+ years of experience as a life coach and spiritual teacher, she expertly weaves together the perspective of a clinician and a spiritual warrior, with her own personal journey through love's sometimes harrowing labyrinths, and gives the reader a map for understanding their own relationships. Understanding how our childhood experiences shape our strategies for getting and keeping love, Ms. Benson's book will save readers years of heartbreak and frustration. The culmination of her journey encourages and inspires the reader to turn inwards to find a self-sustaining, mature love known to spiritual aspirants as the "Inner Marriage." If you have looked for love in all the wrong places, hoped that someone "out there" will make you feel complete and whole, and are yearning to find a relationship with your own "Inner Beloved," this book will inspire you and guide your way home. This is a story about love, loss, passion, betrayal, heartbreak, and ultimately forgiveness, healing, and redemption. Both men and women will find Tina's story illuminating, informative, instructive, and inspiring.
"A Woman Unto Herself: A Different Kind of Love Story" is available now on Amazon in the U.S. and internationally, $19.97 USD paperback, $4.99 Kindle.
http://www.amazon.com/Woman-Unto-Herself-Different-Story/dp/0692478787
Tina M. Benson, M.A., is a modern-day Soul Whisperer and transpersonal/Jungian-oriented spiritual teacher and life coach. With a Masters degree in counseling psychology from Lesley College Graduate School, she has more than 30 years experience, both in the United States and abroad, teaching, leading, and facilitating individuals, and couples, as well as large and small groups through consciousness explorations, chakra initiation/meditation retreats, couples and women's retreats, ecstatic dancing, Voice Dialogue, Enneagram, chanting, ritual, and travel to sacred sites around the world. She is the founder and creator of the SoulSpeaks Project, creator of the short documentary film, "What Matters Most," and is also a non-denominational ordained minister, officiating at weddings, birth, death, and other life-passages and celebrations. Tina lives and practices in Marin County, California.
For more information about "A Woman Unto Herself: A Different Kind of Love Story," please visit
www.soulwhisperer.com
, or contact author at 415-488-4059.