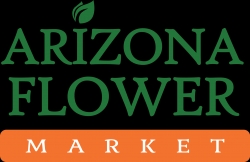 Phoenix, AZ, October 16, 2015 --(
PR.com
)-- Arizona Flower Market, Arizona's only wholesale to the public flower & décor warehouse, is this year's major sponsor of Phoenix Art Museum's signature fundraising event, Arts & Flowers. 2015 marks the event's eleventh year and the first time it will be held in October. In the past, the 3-day event was held in the early spring, but with the arrival of a new director came new ideas for reaching an even broader audience. For those unfamiliar with the event, Arts & Flowers pairs local floral artisans with a unique museum exhibit and their mission is to interpret that piece through the art of floral design.
Said Brad Denham, owner of Arizona Family Florist, parent company to Arizona Flower Market, "We are excited to be the major sponsor of such a signature event, as we have always had a love for the arts. In addition, we are proud to underwrite the participation of six of our very own ultra-talented floral designers. There is no better way to recognize the incredible talents of the valley's finest floral artisans than to pair their work with the Phoenix Art Museum's one-of-a-kind works of art. This is truly a must see event and one that we look forward to every year."
Among some of the most popular events taking place this weekend are Lunch with a Designer, in which participants dine with one of the floral designers, who donates a floral centerpiece to the table which will then be auctioned off, Designer's View, in which the designers stand by their exhibits and answer questions from attendees about their inspiration, and The Art of Bonsai demonstration in the Wolfswinkel Education Center.
For more information on Arts & Flowers and to purchase tickets, please visit http://www.phxartmuseumleague.org/
For more information about Arizona Flower Market, visit
www.azflowermarket.com
.
Arizona Family Florist was founded in 2005 and has quickly become one of the industry's leading floral and gift providers. Their multi-channel approach to retailing has spawned a diverse family of brands all housed under one roof, dubbed the Phoenix Flower District. Their brands include Arizona Flower Market, a wholesale flower and décor market open to the public, Arizona Florist, a full-service, all occasion floral retail & gift shop, LUX Wedding Florist, an award-winning, full-service bridal & event floral design studio, as well as Fantastic Fruit.
To learn more about Arizona Family Florist or their family of brands visit www.azfamilyflorist.com