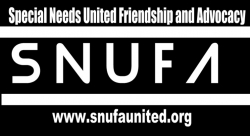 Saint Paul, MN, October 20, 2015 --(
PR.com
)--
www.kickstarter.com/projects/1469191865/snufa-social-network-project
Daniel Hood is a self-advocate and the founder of Special Needs United Friendship and Advocacy.
Special Needs United Friendship and advocacy (SNUFA) is an non-profit organization intended to provide a online advocacy support system for advocates and self-advocacy groups where special needs individuals and groups, family, friends and support can interact online and to build friendships around the United States and eventually around the world.
SNUFA advertising will be free for advocates and groups for a two week period. Once their network is fully operational, SNUFA will charge for additional costs that will be affordable for everyone.
Daniel Hood credits Miss Mary Nixon, who was his teacher, with the inspiration for creating SNUFA. She taught many students with special needs reading, writing, math and communication skills. "My gratitude and appreciation of Miss Mary Nixon for the education she gave me is great. I am dedicating SNUFA to the memory of Miss Mary Nixon for everything she did for me and other students. She inspired me to become a self-advocate and help improve the quality of life for individuals with special needs and disabilities despite the Risks and challenges," says Hood.
SNUFA aims to get more members to join their social network to build organizational growth and to improve their social network.
"Thank you for your attention my dream. I hope it will inspire you to help make a difference. Our goal is to have the SNUFA organization fully operational with in five years," said Daniel Hood.