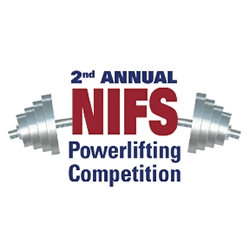 Indianapolis, IN, October 20, 2015 --(
PR.com
)-- The National Institute for Fitness and Sport (NIFS) will be hosting a non-sanctioned Powerlifting Competition on Saturday, November 14, 2015. Competition begins promptly at 9:00am and is limited to 70 participants (female and male). Athletes will be categorized by gender and body weight.
Different from weightlifting, powerlifting is comprised of three lifts: the Squat, Bench and Dead Lift. Competitors will be allowed three attempts at each of these three lifts. The best lift from each discipline will be added together to serve as the competitors total. Registration is now open for this event. Forms are available at www.nifs.org.
Online registration
is also available. There will be a wide range of ability levels all trying to do their best and have some competitive fun at the same time.
First time competitor Madison said of the competition last year "I loved how encouraging everyone was. Even though it was a competition, people were constantly saying 'you can do it' or 'great job.' High-fives were everywhere, and it was awesome."
Recently, powerlifting seems to be experiencing a rebirth, a resurrection that is occurring on a grass-roots level. Many new lifters are coming into the sport. Tony Maloney, NIFS Fitness Center Manager, says "When you see the weight go up after all of the hard work you have put in, there is nothing like that sense of accomplishment. Powerlifting is full of those victories."
The entry deadline is November 7th, 2015 – These spots will go fast!
To find out more on the Powerlifting Competition, call (317) 274-3432, e-mail Tony Maloney at tmaloney@nifs.org or visit www.nifs.org/nifs-powerlifting-competition. NIFS media contact: Trudy Coler (317) 274-3432, email tcoler@nifs.org.
National Institute for Fitness and Sport is a non-profit organization committed to enhancing human health, physical fitness and athletic performance through research, education and service.