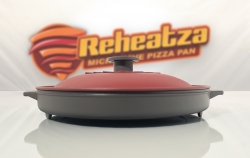 Gilbert, AZ, October 20, 2015 --(
PR.com
)-- Reheatza, LLC., launched its crowdfunding campaign on Kickstarter.com in October, 2015, and has already raised 20% of the funds needed to bring its Reheatza Microwave Pizza Pan to market. The company has set an "all or nothing" funding goal of at least $47,500 before it can finalize the product design and begin manufacturing.
Joe Kanefsky and Boyd Palmer wanted to find a solution for crisping leftover pizza in the microwave, so the crust retains that oven-baked taste and the toppings stay moist and steamy. "We had to find materials that could heat the bottom of the pizza, while shielding the top from excessive microwave energy," said Boyd Palmer.
Although the pan was initially designed for reheating pizza, it can reheat and even cook a variety of other foods as well. "We didn't want the pan to be a single-use product, so we kept testing it with other foods like grilled cheese sandwiches, quesadillas, hamburger patties, even healthier options like vegetables and tofu," said Joe Kanefsky.
Bypassing the option to use less-expensive materials, the two entrepreneurs at Reheatza focused more on creating a product that would be more durable and longer-lasting than a typical "as-seen-on-tv" quality product that might be expected in this category. The objective was to create something that not only met customers' expectations, but continued to exceed them for hundreds of uses over the years.
Instead of getting business loans or raising venture capital, they decided to try crowdfunding on Kickstarter.com. "We felt that Kickstarter would be a great place to showcase our product, get a feel for consumer demand, and raise just what we need to fund our engineering and first order from the manufacturer. Kickstarter backers are generous people who are not just buying our product, they are backing our success and joining our journey to help bring Reheatza to market," said Boyd Palmer.
Reheata's funding campaign will end on Thursday, November 12th, 2015.
About Reheatza, LLC.
Reheatza, LLC is based in Arizona and designs and manufactures products to improve the quality of microwaved foods.
For more information visit:
http://www.reheatza.com
Reheatza Kickstarter project: https://www.kickstarter.com/projects/reheatza/reheatza-microwave-pizza-pan