DirectBuy is Looking Good; New Showroom Design is a Success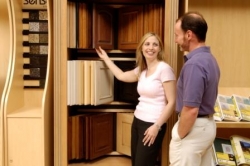 Merillville, IN, December 13, 2007 --(
PR.com
)-- DirectBuy Franchises across the United States and Canada are looking better than ever after converting to the new showroom design – and Franchisees and employees couldn't be more excited about showing off their Centers' makeovers.
New showrooms and some existing Centers began adapting the new design in 2005 in order to create an improved, more credible, DirectBuy brand experience for members, guests and employees. Based on feedback, the new look is already making a positive impression.
Franchisees Dean and Corinna Smith opened DirectBuy of Kingston, Ont., last October with the new showroom design. "We're glad we opened under the new concept," says Dean. "It's worth it, because we're taken more seriously and it looks much more professional. It brings more business our way."
The upgrades start the moment you walk through the door and into the dramatic new lobby, where a receptionist greets visitors, and a television, stacked stone fireplace and graphics on focal walls give the entrance a more credible look. Throughout the showrooms, members find shopping easier than ever, thanks to five specific showroom sections: Home Improvement, Flooring, Entertainment and Outdoor, Accessories, and, the largest of them all, Home Furnishings.
And the vignettes – with furniture selected to appeal to each market's demographic and flooring chosen by Franchisees – give members and guests inspiration for decorating their own homes.
But some of the most notable changes are the new showroom features implemented specifically to enhance member service. Designer stations provide space for kitchen and bath designers and interior designers to meet with members about their projects, and Product Specialists can help members place orders at member ordering stations and virtual showroom stations.
Showrooms also have a Member Services window where members can make order payments or talk with service staff about existing orders, pick-ups and delivery scheduling.
Kary Tratner, Owner of DirectBuy of Toronto North, says that these aspects of the new design enable the staff to help members more efficiently than ever.
"We have been extremely happy with the switch to having a Member Services office for follow-up of orders," says Tratner. "Our members have definitely experienced an increase in the customer service level by having staff members who are specifically dedicated to following up on their orders."
Franchisee Scott Porter agrees that the new design is making a positive impact on members. He recently opened two showrooms in Oregon under the new design: DirectBuy of Portland West, which moved to a new location in November after 21 years in the same spot; and DirectBuy of Portland East, which opened in February.
"The members from the old location were flabbergasted, and prospective members' attitudes are much better," says Porter. "It's affected everyone, because we have a much more professional space, so expectations have been raised for service."
About DirectBuy
For more than 35 years, DirectBuy has been showing thousands of consumers unparalleled ways to save as they shop for virtually everything they need for in and around their homes - from
furniture
,
carpet
and flooring, to kitchen and bath cabinets, appliances and much, much more.
DirectBuy enables members to purchase most every product offering from several hundred manufacturers at over 140 showrooms across North America. To request a "Free Insider's Guide to Buying Direct" and a Visitor's Pass to learn more about the superior value and benefits of a DirectBuy membership, visit
www.directbuy.com
or
www.directbuycares.com
###
Contact
DirectBuy
Sara Shragal
219-736-1100
http://www.directbuy.com/

Contact