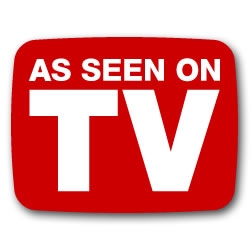 Clearwater, FL, October 21, 2015 --(
PR.com
)--
As Seen On TV
, Inc. today unveiled a new digital strategy with the rollout of its new Marketplace website, SeenOnTV.com. Following a model similar to Amazon's Seller Central, manufacturers and sellers of TV products can register as a Vendor and sell through the new site.
"Historically there has always been a disconnect between buyers and sellers of TV products, and that was something we wanted to change," said Ron Rule, CEO of As Seen On TV, Inc. "The hokey one-page websites, the inflated shipping charges, the hoops you had to jump through to cancel an order or return items; It was a terrible customer experience."
Rule, who was formerly the Chief Technology Officer of the original company, has been shifting toward a more consumer-focused approach since taking the reins as CEO of the new company in May, said the "reboot" of As Seen On TV has been in the works for more than a year. The new site addresses all of the "pain points" customers had with the old model, and the Direct Response industry as a whole.
"We listened," said Rule. "It's 2015, there's no excuse for a lousy customer experience or a lack of transparency. Customers shouldn't have to worry about fine print, hidden charges, or having to wait on hold to track or cancel an order. The new site is entirely self-service."
The platform was also designed to maximize audience engagement. Among the new technology features are more personal shopping experiences where products the consumer is likely to be interested in are more visible than other items, and the ability to earn store credit for sharing products with their friends. Both engagement and overall conversion rates are already higher than they were on the old site, according to Rule.
As Seen On TV also aims to tackle another problem that plagues the Direct Response industry; the abundance of counterfeit goods sold online. "Every time a product is sold on TV, foreign manufacturers rush to market with cheap imitations, sometimes even duplicating the packaging," said Rule. "Those products find their way to Amazon, eBay, and other sites, and people don't realize they aren't buying the genuine item. When they start complaining about the poor quality, it hurts the reputation of the genuine brands, so we're working with the Manufacturers and the other Marketplace sites to try to combat it."
About As Seen On TV, Inc.
As Seen On TV, Inc. is a direct response retailer that identifies, develops, and markets brands and consumer products.