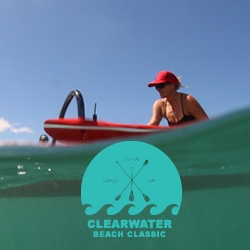 Clearwater, FL, October 22, 2015 --(
PR.com
)-- Clearwater Beach Classic
A three day Canoe, Surfski & SUP event in Clearwater, Florida
October 23rd-25th 2015
http://clearwaterbeachclassic.com
Clearwater Beach Classic is a 3 day paddling event featuring races, clinics and demos. Races range from 6-Person Outrigger Canoe's to SUP, Surfski, Prone-Boards, and single person outrigger canoes. Take time to perfect your skills with world renowned coaches and elite paddlers. Discover the latest models and designs in the industry with opportunities to demo new models in SUP, OC and more.
"We decided to team up with the organizers from the WPA and run an event that would include all types of paddling crafts at Clearwater beach and over the weekend. We locked in the venue at the beautiful Sheraton Sand Key Resort and with great volunteers and sponsors we are really stoked for how this event has shaped up."
- Jean Raas, Race Director
Clearwater Beach Classic is sponsored by St Petersburb/Clearwater Sports Commission, Hook Tribe, Sheraton Sandkey Resort, Outrigger Zone, Epic Kayaks, Puakea Designs, Kai Wa'a Ocean Canoe, YOLO Board, Crazy Paddlers and Malibu Rum.
For questions and media relations please contact Jean Raas at 727-259-3570 Jraas18@gmail.com