Parents Can Teach About Kindness and Honesty with New Children's Book
A professional storyteller and his wife team up to create a stunning new children's book to help parents teach kindness and honesty. Carefully hand illustrated with vivid collages, it is now available at online booksellers.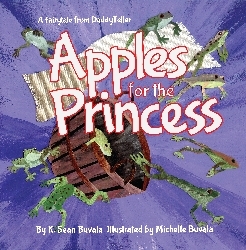 Tolleson, AZ, October 26, 2015 --(
PR.com
)-- Professional storyteller K. Sean Buvala and his wife Michelle Buvala have teamed up to create and release "Apples for the Princess," a children's book featuring a rare fairy tale retold for modern kids along with hand-crafted watercolor-and-cloth illustrations. This new book is available in paperback or Ebook at Amazon.com or at applesfortheprincess.com. Free coloring pages, based on the book, are also available on the website for adults and kids.
Sean Buvala, a nationally-travelled storyteller and founder of Storyteller.net, created this story book from an obscure Grimm fairytale titled, "The Griffin." He suggests that this story becomes a teaching tool for parents. Buvala says, "The old wizard in our book repeatedly says, 'Well as you say, so it is.' This saying then becomes the catch-phrase that parents can use with their child throughout their growing years. It can be both a gentle warning and an encouragement. It becomes a real-life reminder that our actions and words influence what happens around us."
In an age where it seems that most books are now illustrated by computer, "Apples for the Princess" is hand-illustrated by Michelle Buvala. Using a combination of vivid water-color, carefully-cut paper and cloth accents, Michelle has created detailed, full-page designs. Unlike computer-based images, this book is produced with art that actually exists in the real world which had to be carefully formed and laid out. Michelle says, "I hope this book inspires young artists to create their own collage art." Visitors to the website at applesfortheprincess.com can see videos of Michelle as she creates some pages.
Sean previously released the parent-training book of DaddyTeller, which teaches parents how to use oral storytelling to interact with their children. In addition, working with the book helps families grow both the literacy and math skills of their children. He teaches parenting classes based on the "DaddyTeller" technique throughout Arizona and beyond.
This is the first of many new joint projects that Sean and Michelle will create for families. Michelle, a former elementary-school teacher, says, "I've always wanted to illustrate kids' books. I am happy to be able to do so with my husband as a partner."
"Apples for the Princess" is published by The Small-Tooth-Dog Publishing Group in paperback and electronic editions.
Media Resources: smalltoothdog.com/mediakit
Contact
Storyteller.net
K. Sean Buvala
623-298-4548
www.storyteller.net
Available for radio, TV and print interviews.

Contact
Multimedia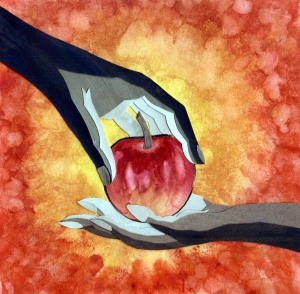 A page from the new Children's book, "Apples for the Princess" by Sean and Michelle Buvala.