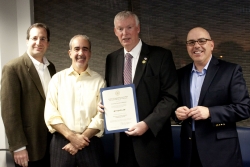 Fair Lawn, NJ, October 28, 2015 --(
PR.com
)-- On October 15, New Jersey Associates in Medicine (NJAIM) hosted an Open House showcasing its entire medical facility. Nearly 50 guests from the business and medical communities along with NJAIM doctors and staff celebrated the grand re-opening of the fully renovated suite of offices, exam rooms, procedure rooms and expanded and redecorated reception and waiting areas. Fair Lawn Mayor, John Cosgrove, kicked off the event in the spacious 2nd floor reception area by presenting Drs. Arbit, Cappitelli, and Resnick (NJAIM partners representing the entire medical staff) a certificate commemorating the grand re-opening and recognizing the practice's longstanding contributions to the community. He also offered his congratulations for the work the practice has done in upgrading the facility and continuing to make Fair Lawn a highly desirable destination for health care services.
Following Mayor Cosgrove's presentation the festivities moved into high gear with guided tours of the complete facility along with plentiful food and beverage service. Tours included the entire suite of patient examination rooms (44 in total), infusion therapy suite, endoscopy procedure suite, X-ray imaging rooms, cardiac and pulmonary testing rooms, physical therapy room, and podiatry exam and procedure room. A high point of each tour was the health assessment station and demonstration provided by MedPro, a health and wellness company partnering with NJAIM. Guests interested in checking out their health profile were invited to do an actual biometric scan complete with an assessment printout. To conclude the evening guests were invited to see the fully equipped blood analysis laboratory and redecorated waiting room on the 1st floor of the building and receive their thank you package along with a reminder to get a flu shot this season.
According to Dr. Jack Cappitelli, President and Managing Partner at NJAIM who greeted the guests, "the evening went extremely well. Every guest appreciated the chance to see our offices, spend quality time touring the facility, and getting to know us all a little better in a social setting." NJAIM also saw the event as a way to engage more with the governmental, business and medical communities in and around Fair Lawn. Stephen Lumsden, NJAIM Executive Director, expressed that "the open house definitely met and some ways exceeded our expectations. It showed us we should consider doing more of these types of events in the future."
The NJAIM office renovation project started more than a year ago primarily because of patient feedback. NJAIM cares for hundreds of patients every week in its one convenient location complete with off street parking. And, convenience comes not only from its location but also from the many services it offers across its 11 medical practices including allergy, cardiology, gastroenterology, internal medicine, pulmonology, rheumatology, and others. But, according to Dr. Cappitelli, "patients were telling us, 'the office is looking a little run down' and in some cases 'somewhat dreary.'
"The end result after spending countless planning hours and investing thousands and thousands of dollars is an updated space with a much better reception/check out flow, updated patient waiting area, new furnishings, and better overall visual look of the entire office. Quality and comprehensive medicine is still at the very core of what NJAIM does. But quality in today's healthcare marketplace has expanded to include, more than ever, time efficiency, location convenience, and pleasant surroundings. This is something NJAIM has done for years and can now combine with a fresh, up to date appearance which shows its keeping pace with modern medical trends, including office hours on Saturday from 8:30 am to 12:30 pm," according to Stephen Lumsden.