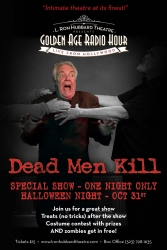 Hollywood, CA, October 28, 2015 --(
PR.com
)-- The L. Ron Hubbard Theatre located in Hollywood, one block west of the Chinese Theatre, will feature a special one-time-only performance of the zombie-detective story, Dead Men Kill, on Saturday, October 31, Halloween. In their review Fangoria noted that Dead Men Kill, "should please both nostalgia buffs who like fast-paced, old-fashioned noir-style prose and those who simply enjoy creeping horror from the grave."
And as a special added attraction for Halloween only, there is a costume contest and anyone dressed as a Zombie, gets in free.
Story description: Detective Terry Lane, an incorruptible homicide cop, thought he had seen it all until he encounters several unlikely killers that have not emerged from the seamy underbelly of the city, but from under six feet of its earth. The walking dead are on the prowl, spreading terror and showing no mercy.
Following a trail of death, drugs and blackmail, complicated by a seductive night club singer who shows up claiming to have clues that would help him solve the case, Detective Lane soon finds himself sealed in a coffin en route to the next zombie murder - namely, his own...
Enjoy a great show, a night of live Hollywood intimate radio theater and cabaret-style comfortable seating (where every seat in the house is a good seat). The best way to spend Saturday night in Hollywood. Doors open at 7 pm, show begins at 7:30 pm. Tickets are $15 per person.
http://www.galaxypress.com/theatre-los-angeles/theatre-schedule/
The cast:
Narrator - RF Daley
Detective Lane - Nathan Nonhof
Dawn - Sarah Elise
Jackson - Brewster Parsons
Gordon - Bill Kates
Inspector Leonard - Skip Harris
Reynolds - Ren Wilson
Maid - Vanessa Cure
Dr. Kaler - Mike Norris
Reporter - Noelle North
Music:
Freedom Singers with lead vocalist, Gabriel Manro
Dead Men Kill by L. Ron Hubbard
One night only, Saturday, October 31 -- Halloween
Doors open at 7:00 PM and show starts at 7:30 PM
Tickets: $15.00 adults, children under 8 free. Can be purchased at the door or online at www.GalaxyPress.com or www.eventbrite.com.
Parking: Free
Address: 7051 Hollywood Blvd, on Hollywood Blvd, cross-street Sycamore, between Highland and LaBrea.
Note: For the best seats, it is recommended to purchase tickets in advance.
The L. Ron Hubbard Theatre has been open since 2008 and showcases the fiction works of L. Ron Hubbard in a modern-day environment with Hollywood actors where the entire family can experience a live show radio-theatre style and mingle with the actors afterwards.
Performances range from adventure, science fiction and fantasy, to mystery and western and begin with a 30 minute live musical pre-show. All shows are appropriate for all ages.
For more information go to www.GalaxyPress.com.