SongCat Helps Upcoming Songwriters by Giving Free Music and Career Advice from Industry Insiders Whose Credits Include Ray Charles, Toby Keith and George Strait
The music production company SongCat LLC will start a free video series in January 2016 providing advice and tips to aspiring songwriters by established industry insiders who won awards such as The CCMA Songwriter of the Year Award and the BMI Songwriter Award.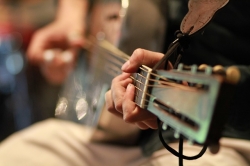 Springfield, MO, October 30, 2015 --(
PR.com
)-- The online music production studio, SongCat LLC continues their rapid growth in the third quarter of 2015, becoming one of the major players in music production in the US and worldwide. Headquartered in Springfield, Missouri with partner studios in Chicago, IL and West Palm Beach, FL, SongCat helps songwriters, singers and other musicians creating a radio ready sound for their music.
To further help musicians in their early stage of their career, SongCat, will be releasing a video series that allows insiders and professionals of the music industry to give helpful advice to amateur and aspiring musicians.
"We are offering a free monthly video series where established songwriters and other industry insiders give upcoming songwriters tips on how to improve their songwriting skills and break into the market," Chris Erhardt said, who is the head of production and CEO of the company.
Credits and awards of confirmed speakers so far include Ray Charles, Victoria Shaw, George Strait, Tiffany Darwish. The CCMA Songwriter of the Year Award and the BMI Songwriter Award.
The free video series is scheduled to be released in January of 2016. SongCat LLC is currently working to get more industry insiders on board. The company is even taking suggestions for any topics about the music industry that followers of SongCat want explained in the video series.
"Anyone with a topic in mind for the video series is welcomed to email their suggestions to us at info@songcat.biz or through our online form at http://songcat.biz/songwriting-explained.html and we'll consider using it," Erhardt explained. "We are a collaborative company that always welcomes input from aspiring musicians."
Additionally, SongCat, has come out with a free service that allows amateur and professional musicians to meet online and collaborate with each other on their music projects. That way, composers and songwriters don't have to rely on only themselves to write a catchy song. They can collaborate with other skilled musicians who can lend a helping hand in creating a great song together. It's the perfect solution for someone who is great with words but struggles with the music part and vice versa.
"It's like a dating website, but for musicians and without fake profiles and photoshopped pictures," Chris Erhardt said. "We match people with a suitable collaborator for them and together they can start creating great music."
Other benefits of collaborating includes the shared cost of music production. When collaborating, both of the involved musicians contribute to the expenses, cutting their bill in half. Additionally, once the song is finished, collaborators can promote their work with joined forces, tab into each of their networks and create a much bigger buzz than they could alone.
"Once a rough work tape is created by the two collaborators, SongCat will take over and produce a high quality song out of it," Erhardt said.
You can create your Collaboration Match profile at http://songcat.biz/collaboration-match.html.
Contact
SongCat LLC
Mylene Besancon
727-474-1479
songcat.biz

Contact