SolarCraft Helps Sundial Broadcasting Corporation Switch to Solar Power
Novato and Sonoma-based SolarCraft announced the completion of a 24.8 kW solar electric system at Sundial Broadcasting Corporation in Sausalito, CA. The broadcasting station sits on Mount Beacon atop the Marin Headlands and is now powered by clean, renewable energy.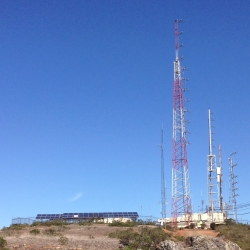 Novato, CA, November 06, 2015 --(
PR.com
)-- The project is expected to provide Sundial with nearly $403,000 in energy savings over the life of the system and meet 99% of the station's electricity needs.
Designed and installed by SolarCraft, the solar photovoltaic system is ground mounted and engineered to solve difficult challenges presented by the coastal, mountain-top location such as high winds, salt mist corrosion and uneven, rocky terrain. The solar photovoltaic system consists of 80 Canadian Solar 310-watt solar panels, spanning 1,654 square feet. Candian Solar's high-efficiency solar panels are certified for use in coastal and marine environments, ensuring the durability and performance of the project.
The system will be net-metered, so any solar energy not consumed by Sundial Broadcasting Corporation will be fed into the local electricity grid. The project is expected to generate 34,977 kilowatt hours of electricity within its first year of operation. The station will recoup the cost of installing the system in less than 6 years and enjoy free power from the sun for many decades to come.
The new solar power system will allow Sundial Broadcasting Corporation to generate enough electricity to power 6 average homes and will avoid production of 27 tons of carbon dioxide emissions per year, which is the equivalent of removing 2.2 million miles of driving over the next 25 years. That's also comparable to the air pollution removed by 12 acres of trees.
SolarCraft is one of the most trusted and experienced solar energy contractors in California. Since 1984, this certified Green Business has been providing high quality solar electrical, solar pool heating and solar water heating services to homeowners and businesses, employing licensed and certified solar installers. With more than 6,000 satisfied customers and over 3 million square feet of solar collectors installed, SolarCraft is committed to Quality Design, Quality Materials and Customer Service.
www.solarcraft.com
Contact
SolarCraft
Kim Burnett
415-382-7717
www.solarcraft.com

Contact