CUE Announces Hadi Partovi as Keynote Speaker for 2016 National Conference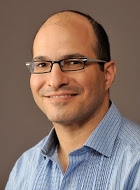 Walnut Creek, CA, November 11, 2015 --(
PR.com
)-- CUE confirmed that entrepreneur, co-founder and president of Code.org® Hadi Partovi will Keynote the CUE 2016 National Conference, March 17-19, in Palm Springs, California.
Hadi Partovi will deliver the keynote address during Friday's General Session on March 18, 2016, from 8:00 - 9:45 am. More than 6,000 attendees are expected at this year's event, which is the largest Educational Technology conference in the Western U.S. This year's conference marks CUE's 38th year of inspiring innovative learners.
Partovi's nonprofit, Code.org®, launched in 2013 and is dedicated to "growing computer science education and to increasing participation in computer science by women and underrepresented students of color." Its vision is that every student in every school should have the opportunity to learn computer science and that computer science should be part of a school's core curriculum, alongside other courses such as biology, chemistry or algebra.
CUE Full Conference registration includes the Welcome Session Keynote, General Session Keynote and Closing Session Keynotes, over 300 speaker presentations, CUE Tips, Poster Sessions, the Diverse Learners Symposium, the Information Literacy Summit, CUE Student-Powered Showcase, CUE STEAMpunk playground and 100,000 square feet of vendor displays with the latest in educational technology. Visit
cue.org/national
to register.
About CUE
Ed Tech Professional Development is at the core of CUE's work. We are passionate believers in advancing student achievement through technology. By providing Ed Tech professional development to schools, districts, and local educators on the infusion of emerging technologies, we can help better prepare students for college and careers ahead. | www.cue.org
About the CUE National Conference
The CUE National Conference is the largest and oldest education technology conference in California and among the largest in the United States with more than 6,000 teachers and administrators attending annually. To register or for more information, visit www.cue.org/national | #cue16
Contact
CUE
Dana DuRee
925.478.3460
www.cue.org

Contact