Join Mike Schroeder as His Team Transform the Way the World Reads Comics
Raising more than $15,000 in 30 days for a side project isn't the most appealing notion to most recent college grads buried in student debt, but Mike Schroeder from Toronto is creating something that may just be worth the risk.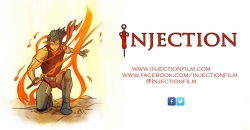 Toronto, Canada, November 12, 2015 --(
PR.com
)-- The graphic novel Injection that made waves when released earlier this year is growing and going mobile.
In conjunction with Nanomyte Studios, Injection was created by Mike Schroeder and has been turned into a short audio film featuring Lovina Yavari with cutting-edge effects and an original score by Alex Wilkinson and sound mixing by Dakota Smolders. The story was scripted by the creator, Mike Schroeder and has been further developed with the help of Miles McCraw. The worlds of Injection were created by artist Jamal Campbell. The film was directed by Mike Schroeder and produced by Adrian Harasowsky.
The team recently partnered with Toronto-based digital venture firm King Ventures to transform the way the world experiences comics and graphic novels by driving a new transmedia movement. The team is in the process of making a digital platform that is as immersive and engaging as modern games. The platform includes cutting edge visuals, novel interactions and fully-immersive worlds to explore. Ultimately, the team aims to open up the platform to support a wide variety of interactive content types.
The Injection app is intended to provide seamless immersion into the post-apocalyptic world of injection and allows readers to access more content as they follow the story - "the more you read, the more you unlock."
To bring the app and platform to life, Mike and team are hoping to raise $15,000 in 30 days for their new
Kickstarter campaign
.
About Injection:
The story of Injection is a sci-fi fantasy that begins after the fall of civilization, where a corporation named Syntech rises out of the ashes to rebuild infrastructure for humanity. In order to maintain control, Syntech employs special agents that inject themselves with super powers. An agent named Jinn is sent to hunt down a defector of Syntech, and tracks him to one of the last remaining cities, only to find himself questioning the motives of Syntech and his role in the new world.
A teaser video for the app can be viewed at: https://www.youtube.com/watch?v=bdSnFi94im4
About Mike:
Mike Schroeder is a transmedia specialist and recent graduate of Humber College based out of Toronto, Canada. He discovered a love for film in high school, which he's taken on many adventures and used in number of different career paths. Since graduating from Humber College, Mike has developed the first iteration of the Injection story, and recently established a production company Nanomyte Studios to further evolve the Injection digital experience into a transmedia platform. Visit the Injection website or the Kickstarter page to provide your support. You can also follow the progress on Facebook, Twitter, Instagram and Tumblr.
"This groundbreaking transmedia initiative represents the largest multi-media production we have ever attempted to date, and it has not been without challenges. To that end, we have pulled together a diverse and talented team of developers, artists and storytellers with extensive experience building comic books, films, games and large-scale software products. We are collectively taking big steps to pull this off (and we're having a blast in the process)!" ~ Mike Schroder, Creator of Injection.
About Nanomyte Studios: Nanomyte Studios is a transmedia firm that specializes in the ideation and production of media across multiple platforms and formats.
About the Kickstarter campaign:
Mike's kickstarter campaign is aiming to raise $15,000 in 30 days so that he can develop a transmedia mobile app to take the comic book Injection, and animated experiences in general, to the next level. If the initial $15,000 Kickstarter goal is surpassed, additional funds will be used to enhance the capabilities of the app, including features such as background content downloads and augmented reality integration.
There are some amazing perks up for grabs as a thank you for backing this project. Things like "Backer ­only" t-­shirts, buttons, stickers, posters and soundtracks. There are even rare and personalized perks available as well - like autographed posters, VIP tickets to screenings, and even a chance to have a character designed in your own likeness!
To follow the project, be sure to find them on Twitter and Facebook and spread the word to your social media networks. Consider donating as little as $1 to help their project come to life. If you decide to donate more, you might be among the first in the world to push the boundaries of storytelling through graphic novels whilst creating one of the world's first end-to-end transmedia platforms.
Social Media Links:
Websites:
Comic - https://www.injectioncomic.com
Kickstarter - https://www.injectionapp.com
Teaser video: https://www.youtube.com/watch?v=bdSnFi94im4
Twitter: @InjectionFilm | @SchroedMike
Facebook: https://www.facebook.com/InjectionFilm/
Instagram: https://www.instagram.com/injectionfilm/
Tumblr: http://injectionfilm.com/
Media Note
Press contact:
Emma J. Logue, Director Marketing, PR & Communications - Nanomyte Studios.
Tel: (416) 835-4298 | email: nanomytestudios@gmail.com
If you'd like more information about the Injection project, or to schedule an interview with Mike please email: nanomytestudios@gmail.com or send them a Tweet @InjectionFilm, @SchroedMike or @emmajlogue
Contact
Nanomyte Studios
Emma J. Logue
416 835 4298
injectionapp.com

Contact