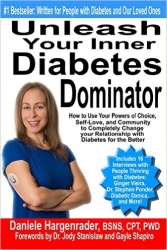 Summit, NJ, November 12, 2015 --(
PR.com
)-- Daniele Hargenrader, aka the Diabetes Dominator, is an international speaker who has presented at Fortune 100 companies, top ranked hospitals and universities, and has appeared in a wide range of media outlets across the U.S. As a diabetes expert, health coach, and certified personal trainer living with type 1 diabetes for 24 years she has dedicated herself to teaching others with diabetes how to live the life they imagined through optimal health and personal growth.
In her new book, "Unleash Your Inner Diabetes Dominator," Daniele offers self-empowering training, coaching, motivation, and education for the estimated 29 million Americans living with diabetes. As Daniele attests, diabetes is commonly seen as weakness or a curse when, in fact, it can be a great source of strength -- if you have the right mindset. "We all have the power to turn adversity into advantage," she writes. "Diabetes can be a catalyst for improving our lives, paying closer attention to what matters most in life, and for being of service to others. I didn't always feel this way, and that's why I wrote this book."
Though today Daniele is in top physical form that wasn't always the case. She was diagnosed with Type I diabetes at the age of 9 and soon after her father died suddenly of heart disease. Daniele suffered through years of depression fueled by food addiction and by the age of 16 weighed over 200 lbs. But she got fed up with hearing that she could not live a "normal" life and that limb loss was inevitable. She decided to turn herself from obese to athlete. What followed was years of extensive research and training, both physical and mental, in order to achieve the body, health, and the Dominator mindset. Though she reached her goals, she realized that wasn't enough. Daniele needed to help others change their lives by showing them how to cut through the misinformation and doubt to obliterate the self-defeating messages that come from all angles.
In "Unleash Your Inner Diabetes Dominator," Daniele presents the same action plan she developed for taking control of diabetes for good, both with herself and her clients. She explains the Six Pillars of Total Health essential for achieving the Diabetes Dominator state of mind, and also includes inspiring interviews with 16 people thriving with diabetes:
Why having the right mindset is a matter of life and death.
The facts about nutrition and diabetes and how - and what - to eat for optimal health.
How to make exercise your best friend -- and why you need to.
Why a supportive community is a critical component to your overall health.
How to take care of your whole body.
How mindfulness can provide enormous benefits to your life and health.
"This is the book I wish my mom and dad had when times looked darkest," Daniele writes. "This is the book that I wish I could go back and give to my younger self, to tell myself that it's going to be okay. To show myself that there is light at the end of the tunnel, and that instead of feeling weak, hopeless, defeated, and unworthy for the rest of my life, that instead I will end up being stronger than I ever imagined possible. Since I can't go back and tell myself that, the best thing I can do now is give you the message."
With "Unleash Your Inner Diabetes Dominator," Daniele proves that diabetes can make you stronger if you choose to take the right actions. This is the guide and positive companion on that path. "I wrote this book for those who are looking for answers," she writes. "It shows you how to use your powers of choice, self-love, and community to completely change your relationship with diabetes for the better."
About Daniele Hargenrader
Daniele Hargenrader, aka the Diabetes Dominator, is a nutritionist, diabetes and health coach, and certified personal trainer. She has been living with type 1 diabetes for almost 25 years. Daniele founded Diabetes Dominator in 2009 with the intention of serving those who are looking for a path to turn a perceived adversity into an advantage through the Diabetes Dominator system and the Six Pillars of Total Health. She helps individuals from all walks of life to think, eat, and move in ways that allow them to achieve a quality of health and life that they previously thought unattainable.