ApexSQL Build 2016 Released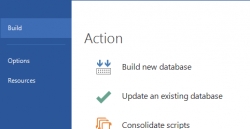 Raleigh, NC, December 24, 2015 --(
PR.com
)-- ApexSQL, a Microsoft Gold Certified Partner and major provider of Microsoft SQL Server solutions, announced the release of ApexSQL Build 2016.
About ApexSQL Build: ApexSQL Build is a SQL database deployment tool that builds new databases and updates existing ones by packaging SQL scripts, SQL script folders, database snapshots, and scripts under version control into a single deployment SQL script, a .NET solution, or an executable installer. It allows specifying the objects to be created or updated, ensures error-free deployment, enables executing SQL scripts against multiple SQL Servers simultaneously, and more.
For more information, visit the ApexSQL Build
product page
.
ApexSQL Build 2016 includes the following new features and improvements:
· SQL Server 2016 CTP3 support
· /dn CLI switch for recognition of invalid referenced objects
· 7 bugs and known issues fixed
"I love the product and it is one of the most valuable tools we use to maintain and update our databases."
-David Raschka
Vice President
Reliant Business Systems, Inc.
See also:
ApexSQL Build 2016 release notes
Contact
ApexSQL Software
Milos Kostadinovic
+1 (866) 665-5500
www.apexsql.com

Contact