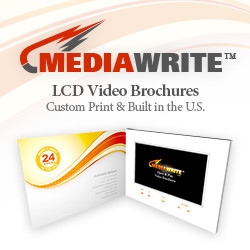 Fort Myers, FL, November 13, 2015 --(
PR.com
)-- MediaWrite, LLC of Fort Myers, FL, is now manufacturing their new hand-held, instant-play LCD video brochures, custom print and shipped within 72 hours.
The custom print, hand-held, LCD video brochures do not require an Internet connection and play instantly when opened. They hold up to 2 hours of video and are loaded and charged using the supplied USB cable. According to MediaWrite's CBO, Dale ODell, "Our most popular 7" LCD version is smaller, lighter and thinner than an iPad Mini and a whole lot less expensive."
According to Mr. ODell, "Companies are budgeting more video production dollars to reach the ever increasing number of YouTube and social network users. Video advertising is much more effective than conventional advertising and marketing specialists know it. A single minute of video is equivalent to 1.8 million printed words." Also according to Mr. O'Dell, "Video brochures, for the first time, allow advertisers to put that video directly in to their prospect's hands – with almost 100% certainty it will be viewed."
Author Lindsay Kolowich recently wrote a blog article on hubspot.com claiming the following interesting video statistics:
1. 78% of people on-line watch video at least once per week
2. 75% of corporate executives view work related video each week
3. 55% of people watch video online each day
According to YouTube Press, they now claim to have over 1 Billion users.
According to Mr. O'Dell, "Branded video brochures allow companies to market to toddlers, seniors and less technically savvy individuals and those without computers or tablets. They're more convenient, faster, do not contain sensitive information, they weigh less and can be mailed anywhere in U.S. for around $3."
Mr. ODell states, "Unlike tablets, salespeople can create video brochure leave-behind campaigns for second chance pick-up appointments with prospects. They're also unlikely to get tossed - creating re-usability savings."
Mrs. Brundage of Deangelis Diamond, a SW Florida Construction firm, commented on MediaWrite's website, "We won a $50 million bid for the SW Florida International Airport FAA tower using them as a leave-behind that put us over the top! The Port Authorities were so impressed and were allowed to keep them as non-gift items. Our competitor's tablets didn't have a chance."
MediaWrite's founders, Dale O'Dell and Lloyd Wickett have worked with many large companies including Kmart, Sears, Radio Shack, IBM, The Goodwill Foundation, Lever Brothers, Proctor & Gamble, Publix, Century 21, and many others. Their collective years of experience in purchasing, electronics, software development, product design, packaging engineering, logistics and sales helped forge the company and their products.
According to Mr. Wickett, "Delivery issues and costs typical with large volume offshore purchasing is minimized by printing and building a large portion of our video brochures here in the U.S. We have less communication errors, Home Land Security inspections, U.S. Customs delays, lost wire transactions and shipping damage but we still depend on our logistics team for component purchasing and large overseas runs."
MediaWrite's multilingual logistic team headed by Mr. Horian is in charge of purchasing, scheduling and shipping of offshore components and for large runs where overseas manufacturing is required. "We communicate with our manufacturing facilities on a daily basis and travel to southeast Asia many times a year to insure quality and expeditious delivery," said Mr. Horian.
MediaWrite has its own in-house, large format printing, scoring and cutting equipment and can produce up to 250 full-color video brochures a day and can ship them within 72 hours.
Mr. ODell said, "I believe as automation improves and prices fall, our company's video brochures will be as mainstream tomorrow as printed brochures are today, and with even more uses." He also states, "We get video brochure orders every week for use in sales & service, product launches, architectural proposals, black-tie invitations, medical procedures, commercial real estate, philanthropy, portfolios and more."