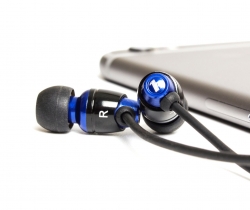 Somersworth, NH, November 12, 2015 --(
PR.com
)-- First Harmonic® announces the release of the IEB6+MIC, an ultra-small, hifi headphone with an engineered 5.5mm mini-driver for exceptional sound. The IEB6+MIC features passive noise isolation and lightweight aluminum construction. The IEB6+MIC ships with 5 different sized fittings for a comfortable fit. It's the first model for the new audio brand.
Building upon the success of thinksound®, a niche audio company, Aaron Fournier and Mike Tunney created First Harmonic® for the mainstream market. The IEB6+MIC features a mini 5.5mm dynamic speaker driver and a light-weight aluminum housing design to provide better ergonomics and comfort. The included ear fitting range in size from xs for smaller ears up to xl. The acoustics have been tuned to rival the more expensive balanced armature models while utilizing a dynamic driver to keep it affordable to everyone.
"The IEB6+MIC is a headphone that can compete with the more expensive metal headphones in terms of audio quality while keeping it small and comfortable for those who listen for long periods of time. I think people will be surprised at the accuracy of the sound coming from such a small source," says Aaron Fournier, President and CEO of First Harmonic®. "This company was formed to bring affordable hi-fi sound to people on a budget without cutting corners in design and build quality. I have been wanting to design a headphone out of a material other than wood for some time. Our other company, thinksound®, has gained a great following, has received many awards for both sound and design. We will continue thinksound®, in the future, but I felt the need to design a product that hit a market that thinksound®, currently does not."
The IEB6+MIC is the first product to launch from First Harmonic® with more currently in development. They are available in a single finish – a blue and black anodized aluminum housing. The IEB6+MIC includes five (5) different-sized silicon earbuds to ensure a comfortable fit. A black fabric carrying pouch is also included to carry the headphones along with a cable clip.
About First Harmonic®:
First Harmonic® was started by award-winning audio engineer, Aaron Fournier and Mike Tunney. After developing numerous critically-acclaimed products over the years for thinksound®, we wanted to try something new.
High-fidelity sound doesn't have to mean a high price tag. Often times, audio products that have a lower price usually mean a compromise was made somewhere in the development process. The sound quality or build quality (or both) are typically pretty poor. Corners were cut. We don't do that.
We develop the drivers and voice our products to make sure they sound great. Our first product, the IEB6+MIC, is a tiny earbud that really packs a punch. We invite you to audition a pair of first harmonic® earbuds to see what we're talking about.
First Harmonic® was founded by audio and consumer electronics industry leaders with over 30 years experience bringing exceptional audio products to market. They invite you try their headphones to experience the difference that quality craftsmanship and better attention to detail make. First Harmonic® is owned and operated by First Harmonic LLC.
For additional information please contact hello@firstharmonic.com or visit www.firstharmonic.com.