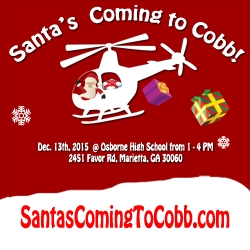 Smyrna, GA, November 11, 2015 --(
PR.com
)-- Who: Dr. Louis Hilliard
What: Santa's Coming To Cobb is looking for donations, sponsors and children
Where: Osborne HS 2451 Favor Rd. Marietta, GA
When: Sunday, December 13, 2015 1-4 PM
Why: Help Needy Children in the Atlanta Area
Santa's Coming To Cobb started in 2005 by Dr. Louis Hilliard at Back 2 Back Family Chiropractic in Mableton, Georgia. Dr. Hilliard saw the need and wanted to make a difference in his community. Starting with just 5 children he knew, he wanted to make more Christmas dreams come true. Now his program has grown to host over 3000 families at his last event, in Cobb. This event has made Christmas dreams come true to over 50,000 children since 2005.
The Santa's Coming To Cobb event is like no other celebration. It's a winter wonderland that is a part of every child's dreams. Santa will fly in by helicopter bringing toys and Christmas excitement. Every Child gets a gift and picture with Santa. There are many Christmas activities for families do to from petting zoo, bounces, games, live music, local youth performances, and real snow. There is something for everyone.
There is a need.
Yes, Cobb County is a great place to live. Cobb County has an amazing diverse population, mostly of White, Black and Hispanic people that make a community great. But it does have its downfalls with a high unemployment rate. The number of people living in poverty is 11%+ of the Cobb population.
(Source: cobbcounty.org)
With that, there is a big need locally. Children and their families need help making their Christmas dreams come true.
He can't do it alone.
Every year Dr. Hillard is blessed to see how this event grew from just a few, to a few thousand children and families. But he can't do it alone and needs help. He is looking to put on the most spectacular Christmas show that the community has ever seen. That takes support, financial contributions and donations. At this time of the year, people get bombarded with toy drives and donations, never to see where your donation goes. But Dr. Hillard assures that 100% of every donation will go to the children in the community. Dr. Hillard would like your family and staff to be apart of this great Christmas tradition by supporting this event and helping Christmas dreams come true.
Website for more information: http://santascomingtocobb.com
Financial Donations can be made at http://gofundme.com/santa2015
Volunteer to help with this event: http://www.volunteerspot.com/login/entry/365955214082
Toy Drop-Off location:
Atlanta Hyperbaric Center
654 Windy Hill Rd. SE
Smyrna, GA. 30080
If you need more information about Sponsorship / Volunteering / Donations please contact:
Dr. Louis Hilliard DC.
Event Host
770-948-4511
docloveslife@yahoo.com