Canadian Crowdfunding Portal, PinUp Camapaigns, Helping Gospel Singer Share Her Music and Message
Crowdfunding to share her soulful message.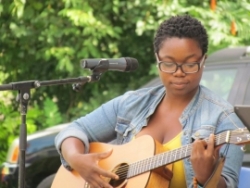 St. Catharines, Canada, November 14, 2015 --(
PR.com
)-- How do you become an amazing Gospel singer? Do you get a runaway mobster girlfriend in your choir and suddenly sounds you never expected burst out of you one simple day (a.k.a. Sister Act)?
It's neither that exciting nor that spur of the moment. The passion doesn't just happen one day. It's something that grows over the years until it becomes you, as it did to Tabitha Lewis of St. Catharines, Ontario.
"I was always surrounded by music at home and it was a part of my life for as long as I could remember," the young Ontario artist explains when describing how she started writing her own songs at the age of ten.
By high school she became interested in digital mixing and recording as well as the guitar and in 2006 had her own artist showcase in Toronto.
Since then, she's had a singular, unpretentious desire to complete a body of work and modestly share it with the public via radio and live performances.
She describes her Gospel style as a combination of Folk, Electronic and Soul music, a great new spin on classic Gospel, with a wider reach and appeal. However, whatever the style, the message remains the same and it is this message that Ms. Lewis wants to share, with song as her simple yet powerful medium.
Now so close to her goal of producing her very first EP, Tabitha is running a crowdfunding campaign via Canadian crowdfunding portal PinUp Campaigns, to help her soulful music movement gain momentum and attention.
PinUp Campaigns specializes in Canadian only crowdfunding projects, assisting limited numbers of campaigners one-to.one with the presentation and marketing of their crowdfunding campaigns, to further the goals of Canadian entrepreneurs.
Listen to Tabitha Lewis' sound and join her campaign at:
www.pinupcampaigns.com
.
Contact
PinUp Campaigns
Marlena Guzowski
www.pinupcampaigns.com

Contact