K-FOOD Web Drama "Delicious Love" Successful Released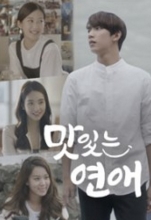 New York, NY, November 19, 2015 --(
PR.com
)-- The Korean Web drama Delicious Love was planned and sponsored by the Korea Agro-Fisheries & Food Trade Corp. (KAFCO) and produced by Pixef Korea. The series has a total of six episodes that make up three two-episode stories, "Remembering the Taste," "Wondering the Taste", and "Deepening the Taste."
Delicious Love was filmed in Jeju Island and Gangchon, featured by Gong Chan (from a K-pop boy band, B1A4), Moon Ga-Young, Kim Yoo-Mi, Kim Hee-Jung, Ami (from a K-pop girl group, Wanna.B), and Kim Dae-Gun. In November 2, Director Lee Kyung-Seok briefly described the overview of the series at the showcase held at CGV Yeouido, "The setting is a fusion Korean cuisine restaurant located in Jeju Island. The story is about a chef encountering three women, one older, one younger, and one his age. In cooking, one's techniques largely determine the outcomes. The same can be said of love affairs. We would like to show that comparison."
Roh Tae-Hak, the director of the KAFCO Overseas Marketing Department, noted, "One of Korean Wave's content products, this is a Web drama themed around Korean food but customized to accommodate Chinese cuisines, food ingredients, and cultural background. We hope this drama contributes to the globalization of Korean agricultural and food products." He added, "We also have a plan to introduce Korean food through Web cartoons."
In the plot, the main male character, Sung-Joon, is a very likeable, handsome chef. He seems to be enjoying a perfect life, but is actually struggling in his relationships. K-pop idol Gong Chan put in a lot of effort to successfully portray this character - he was tutored by an actual chef who had participated in the TV competition program Master Chef Korea Season 2 and devoted long hours at home to practice the techniques he had learned.
Moon Ga-Young plays Su-Jin, an employee working at the restaurant JUNE. She works a part-time job to save money for tuition, and falls for Sung-Joon as the plot progresses. Kim Yoo-Mi plays Yoo-Na, the daughter of owner of a resort in Jeju Island. Kim Hee-Jung appears as Jun-Hee, the editor of a Korean food magazine K-FOOD. Jun-Hee is an ex-lover of Sung-Joon, who meets him again in Jeju Island, her hometown, as she pays a visit there for an interview.
Ami plays Jin-Ju, Kwang-Su's girlfriend and Su-Jin's best friend, and Kim Dae-Gun plays the chef's enthusiastic assistant. The Korean Web drama, Delicious Love was planned and sponsored by the Korea Agro-Fisheries & Food Trade Corp. (KAFCO) and produced by Pixef Korea. The series has a total of six episodes that make up three two-episode stories, "Remembering the Taste," "Wondering the Taste," and "Deepening the Taste."
Delicious Love launched on the 5th, released its second story on the 7th, and concluded on the 9th. It appeared on Naver TVcast, YouTube, Youkou, and Weibo.
Contact
K-FOOD Fair
Heekyeong Jeong
82-2-6000-5208
webtoon.kfoodfair.or.kr

Contact