2nd Annual Craft Beer Walk Brings 500 Attendees to Historic Downtown Lowell Business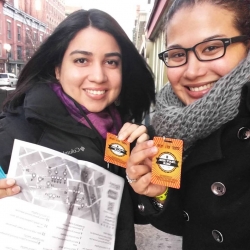 Lowell, MA, November 20, 2015 --(
PR.com
)-- 19 Craft Breweries hosted in 19 local businesses attracted over 500 attendees to historic Downtown Lowell last Saturday for Made In Lowell's 2nd annual Craft Beer Walk.
The event, which was designed to showcase local business, offered a great opportunity for visitors to experience what merchants in historic Downtown Lowell have to offer. "I was able to go into places I didn't even know existed," said Patrice McArthur, who lives in Pelham, NH and attended the event.
"The shop did about twice as much in sales as a typical Saturday and the majority of our customers were first time visitors," said Lydia Blanchard of Sweet Lydia's Company who's shop is located on Merrimack Street and who participated in this year's Craft Beer Walk. "The fact that patrons had to drink their samples in the shop also meant we had a captive audience to lure them into chocolate," she continued.
In addition to Lowell's very own Merrimack Ales and Lowell Beer Works, the Craft Beer Walk featured a variety of local and international craft beers from the portfolio of Seaboard Products, a Danvers based Beverage Distributor. "It's a great way to showcase our breweries and introduce new styles to future customers," said Brian Kubit, Regional Sales Manager for Seaboard Products.
"The Craft Beer Walk was a fantastic event for the Lowell, MA community. Veloxity was thrilled to partner with Made in Lowell and offer complimentary mobile device charging via our charging kiosks. We look forward to other Made in Lowell events to provide the Veloxity phone charging kiosks to Lowell area restaurants, bars, shops and municipalities. Events like the Beer Walk are decidedly a smart way to help bring economic boom to Lowell." - Krassi Popov, CEO, Veloxity
The 2nd Annual Craft Beer Walk was sold out at 500 attendees. "Over 70% of people that came last Saturday were not from Lowell, and came from the Greater Boston Area and the Merrimack Valley," stated Tobias Marx of Made In Lowell. "Many had never experienced any of our local businesses."
Made In Lowell set the date for the 3rd annual Craft Beer Walk for November 12, 2016. Marx said that "Before that, there will be plenty more opportunity to showcase our beautiful city." These opportunities include The Ball on New Year's Eve, held at the Lowell Cathedral (former Jeanne D 'Baptiste Church) on Merrimack Street.
About Made In Lowell
Made In Lowell is an economic and community development organization whose primary function is to create an effective mix of events, marketing, sales, and service programs, which are designed to produce a positive economic impact of visitor and consumer spending in Lowell and to deepen community connections.
Contact
Made In Lowell
Tobias Marx
978-364-1132
www.madeinlowell.org

Contact