Kevin Harrington and AsSeenOnTV.pro Launch PediSand DTRV Campaign; The AsSeenOnTV.pro Product Managers and Kevin Harrington Are Excited to Announce the Launch of PediSand
Kevin Harrington, one of the original Sharks from hit reality series Shark Tank, and the Product Managers of AsSeenOnTV.pro announce the launch of a new DRTV campaign with PediSand – a Hands-free Foot File.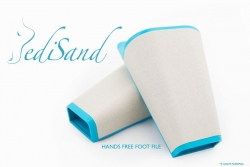 Little Rock, AR, January 20, 2016 --(
PR.com
)-- Women and men alike are getting manicures and pedicures. No one wants to walk around in sandals with rough, calloused feet and heels. Nor is it pleasant to bare your feet when they do not look the best. Equally not pleasant is the chore of emptying hand-held foot files when done using them, rubbing and scraping dead skin and calluses from overworked and smelly feet, and emptying the little trays of dead skin.
PediSand – A Hands-free Foot File
, created by Karmen Hart and Carolyn Jones, will knock your socks off. It is the answer both genders need when it comes to foot care. The device, made from ABS plastic, is sized right to place one foot in the device while rubbing the other foot against the replaceable, abrasive sheet on top of the model. There are no batteries, it is ergonomically-friendly since there is no hands-on filing of the feet.
Pedi-Sand - A Hands-free Foot File was recently a Today Show Next Big Thing Finalist. Inventors Karmen Hart and Carolyn Jones were just interviewed on Big Pitch Radio, and put their best foot forward and impressed the hosts.
As part of its DRTV campaign with AsSeenOnTV.pro, Pedi-Sand- A Hands-free Foot File will be appearing in 30 and 60 second spots set to air nationwide and feature the original Shark himself, Kevin Harrington. AsSeenOnTV.pro is comprised of an award-winning team of producers, writers, videographers, and editors as well as industry veterans dedicated to finding the latest, most innovative products and ideas, and putting them on the DRTV map.
About Kevin Harrington
As the inventor of the infomercial, founder of As Seen on TV, and one of the original Sharks on Shark Tank, Kevin Harrington has worked with some of the world's biggest celebrities and launched some of the best-selling DRTV campaigns in history. Since producing his first 30-minute infomercial in 1984, Harrington has been involved in over 500 product launches that have resulted in over $4 billion in sales. Now, in his latest venture with AsSeenOnTV.pro, Harrington is on the hunt for the best new products and ideas, bringing them to homes everywhere through personalized DRTV campaigns featuring the Shark.
About AsSeenOnTV.proHeadquartered in Florida, AsSeenOnTV.pro
is a full-service production, branding, and marketing company that specializes in direct response television, short- and long-form commercials, and brand building. Based out of a 25,000+ sq ft, state-of-the-art studio, the company's creative team handles every aspect of production from script to screen to airing. For nearly two decades, AsSeenOnTV.pro's veteran staff of writers, producers, videographers, and editors has amassed more than 50 Telly Awards, thousands of prestigious clients, and over $20 million in television placements.
Media Contact: Public Relations, AsSeenOnTV.pro, 813-400-1515
Contact
Jones & Hart LLC
Karmen Hart
501-672-5250
pedisand.com

Contact