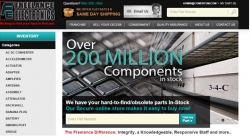 Santa Fe Springs, CA, December 09, 2015 --(
PR.com
)-- New Features on Website Enable Customers to Find and Purchase Obsolete Parts Quickly
Freelance Electronics, an independent, full-service distributor of hard-to-find and obsolete electronic components, announced the launch of its revamped website: https://rcfreelance.com/
"Our new website provides features that will make it even easier for our customers to find the parts they need," said Dustin Carreon, president of Freelance Electronics. "With the ability to look up parts by part number, category, and even by manufacturer, those who order from our site will be able to get exactly what they're looking for very efficiently and cost effectively."
When searching for specific parts on the new Freelance Electronics site, customers are provided with search results that include item pictures, date codes, item descriptions, Mil-Specs, and manufacturers. Customers are then able to add parts to an e-commerce shopping cart and pay online using the site's securely encrypted checkout process—and they can also use their existing UPS account numbers to facilitate shipping.
"We are very pleased that our new site has features catering specifically to the electronic component industry," said Maria Arevalo, Financial Controller at Freelance Electronics. "Freelance has always provided integrity, knowledge of the industry, and a responsive staff—our new website is just another way we're taking care of our clients."
More details about ordering electronic components of all kinds from Freelance Electronics are as follows:
· Freelance Electronics' ISO9001:2008, ESD 20.20, and ERAI certifications reflect the highest standards in the industry.
· In a new partnership with UPS, Freelance Electronics offers flat rate shipping costs on all domestic orders and also provides instant international shipping estimates. Freelance does ship internationally and has extensive experience with customs and export documentation.
· Customers ordering parts either online or by phone can take advantage of same day shipping (some restrictions apply—please visit site for more details).
· Site visitors can get quick answers to questions about products and pricing by utilizing the Start Chat and Request for Quote options on the Freelance Electronics website during the following hours: Monday – Thursday from 8:00 a.m. – 4:30 p.m. PST and Friday from 8:00 a.m. – 2:00 p.m. PST.
· Freelance Electronics is currently franchised for five different companies (with more to come soon): Freemont Micro Devices, NTE, Optifuse, A-Crystal, and Raycon Technology.
Established in 1986, Freelance Electronics is an independent, full-service supplier of obsolete and allocated electronic equipment. In addition to pulling from a growing inventory of over 150,000 line items of electronic component products such as integrated circuits, transistors, diodes, relays, switches, connectors, and more, Freelance Electronics also sources parts from its supplier database of over five million electronic parts.
Freelance Electronics holds ISO9001, ESD 20.20, and ERAI certifications and also offers multiple special services: we can facilitate screening, testing, 883 military packaging, schedule ordering, engineering services, and excess inventory purchasing programs.
To contact Freelance Electronics, please use the following information:
Address:
Freelance Electronics
13197 Sandoval Street
Santa Fe Springs, CA 90670
Phone:
1-800-300-1968
Website:
https://rcfreelance.com/