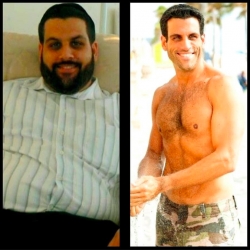 Sunny Isles Beach, FL, December 16, 2015 --(
PR.com
)-- On December 11th, 2015 Eli Sapharti launched his newest book "From Fat Boy to Fit Man: A One Step at a Time Success Story" during a red carpet event that was held inside Kitchen 305 in Sunny Isles Beach, Florida.
Eli Sapharti is best known to be an author, columnist and motivational speaker. Seven years ago, Sapharti's life changed in a dramatic way when he lost over 100 pounds, weighing in over 300 pounds! His weight loss, though significant, is only a small part of his story.
Since publishing his popular memoir, "From Fat Boy to Fit Man: A One Step at a Time Success Story," Sapharti has appeared on the Emmy award winning, The Doctors, as well as ABC's Good Morning America, and hosts other local morning shows. His story has also appeared in national publications including PEOPLE and the Huffington Post. Sapharti has personally written for the popular health and lifestyle website, Diets In Review.
With his natural charm and charisma, coupled with a first-hand knowledge of weight loss, Sapharti has become a popular TV guest and co-host. His greatest joy, however, is the work he does as a personal coach and motivational speaker.
Having founded the principles of "One Step at a Time" for sustainable weight loss, Eli's philosophy has proven effective for many of his clients and the nearly 40,000 very active followers on his Fat Boy Fit Man Facebook page. As an entertaining and authoritative guest speaker, Eli has had the privilege of sharing his expertise at health and wellness events, corporate receptions, organizational retreats, and motivating kids at both the middle and high school levels.
During Sapharti's book launch red carpet event, both Eli Sapharti and Jason Wood, owner of Kantanoose Publishing, announced that proceeds from the sales of the book will go into creating a non-profit organization called H.O.P.E. (Helping Obesity Permanently End) for 2016.
Today, Eli continues to motivate and inspire audiences across the globe, while providing, "One Step at a Time" principles they can utilize in their own lives.
If you would like a copy of his book or to get in touch with Eli Sapharti, please visit www.fatboyfitman.com