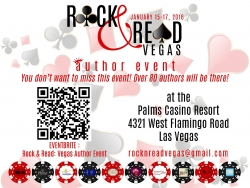 Las Vegas, NV, December 16, 2015 --(
PR.com
)-- SBB Media, LLC bring Best Selling Authors and Models to the Palms.
Summer Clark, owner and founder of SBB Media—in one of the most anticipated collaborations of 2016—has announced she will be hosting Rock & Read January 15-17th at the Palms Hotel and Casino in Las Vegas, Nevada.
The event features Best Selling Authors Harper Sloan, Alexis Noelle, TH Snyder, Felicia Lynn, Vanessa Brooke, Dawne Walters and many more. In addition, the event will exclusively feature top cover models in the industry such as Lance Jones, Robert Simmons, Adam Spahn, Burton Hughes, Joshua Sean McCann, Preston Tate and many more. (Full Author/Model List can be found here: https://www.facebook.com/rockandreadvegasauthorevent/?fref=ts)
A special "wedding" has been organized between Ms. Clark and one of the models as voted on by the readers and attendees of the event. All proceeds of the raffle and auctions held for this event are being donated to the cancer treatment of a five-year-old boy named Carter. More information can be found here: https://www.gofundme.com/w5mdd7q. The Wedding, Author Signing and After Party is open to the public—with ticket purchase—and a portion of the proceeds will be donated to Carter's treatment and finding a cure.
Other special guests include appearances by Golden Furious Photog, Pink Ink Designs, Eric Battershell Photography and Concierge Literary Promotion. Publisher Forever Red Publishing will also be on site accepting short story and book submissions.
For tickets to the event: http://www.eventbrite.com/e/rock-read-vegas-author-event-tickets-16987822033. Any media outlet interested in covering the story will be offered complimentary tickets to attend the event.
All authors and organizers are available for interviews. Please contact Publicist Jordan Deen for press packets, media kits, graphics and more. Jordan_Deen@yahoo.com