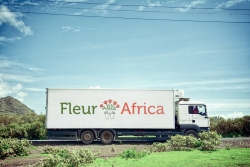 Phoenix, AZ, December 23, 2015 --(
PR.com
)-- Arizona Flower Market is holding a Christmas food & toy drive to support The Society of St. Vincent de Paul in Phoenix, AZ. Patrons can donate a new, unwrapped toy, or 5 cans of food and receive one free Dozen White Sweetheart Roses from Africa. All the roses donated are purchased from FleurAfrica farms in Kenya.
Arizona Flower Market owner, Brad Denham explains, "This Christmas we want to bless the lives of others, both at home and afar by partnering with organizations that are focused on helping others. When a customer donates, they are not only blessing a local Arizona child with the donation of a toy or food, but they are blessing many lives in Kenya by supporting FleurAfrica's efforts. Over 500,000 people in Kenya depend on the floriculture industry for their livelihood and we are proud to help sustain their efforts through our rose purchase. Through our partnership with organizations like The Society of St. Vincent de Paul and FleurAfrica, we can multiply the blessings!"
FleurAfrica's philosophy is to create happiness and well-being. They are focused on providing opportunities for professional growth and development, as well as the resources for their associates to lead healthy and productive lives. They have an on-site clinic that provides outstanding healthcare services with special attention on female health amenities, as well as HIV-prevention education. In addition they provide schooling and daycare facilities for their associates' families with children. The campus includes a central dining area featuring an array of delicious and healthy meal options with the utmost focus placed on food safety.
Danielle Ricketts, Dining Rooms Assistant Manager at The Society of St. Vincent de Paul said, "Arizona Flower Market is a long-time supporter of The Society of St. Vincent de Paul. Most recently, they donated over 3,000 sunflowers for our dining hall families at Thanksgiving. Their generosity is much appreciated and we value our relationship with them."
Founded on April 26, 1946, the Society of Saint Vincent de Paul has a long history of helping the poor in Phoenix. They are dedicated to feeding, clothing, housing and healing individuals and families in our community who have nowhere else to turn for help.
Offer Details: The free flowers for toys and food are available until 6:00 PM Thursday December 24th. Customers must come to the market with their donation to claim their free flowers.
For more information about Arizona Flower Market, including hours of operation, directions and current specials visit:
www.azflowermarket.com
or to donate directly to St. Vincent de Paul, please visit: www.stvincentdepaul.net
About FleurAfrica
FleurAfrica produces environmentally friendly and responsibly grown flowers. Their roses are Fairtrade Certified and Rainforest Alliance Certified. Their water management system is designed to preserve existing aquifers by using large reservoirs to capture rainwater and then irrigate crops. For more information about FleurAfrica visit www.fleurafrica.com.
About Arizona Flower Market
Arizona Flower Market is Arizona's only wholesale to the public, DIY flower warehouse and is a division of parent company Arizona Family Florist, located in Phoenix, AZ. Arizona Family Florist was founded in 2005 and has quickly become one of the industry's leading floral and gift providers. Their multi-channel approach to retailing has spawned a diverse family of brands including an all occasion floral delivery service, Arizona Florist, and award-winning, full service bridal & event floral design studio, LUX Wedding Florist. For more information about Arizona Family Florist visit
www.azfamilyflorist.com
.