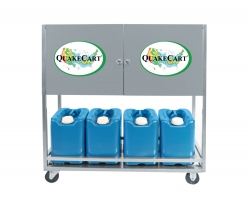 Gardena, CA, December 30, 2015 --(
PR.com
)-- Matel Manufacturing Inc. announces sales of QUAKECART disaster survival carts.
New study from Real Estate research firm Reality Trac, found 43% of U.S Homes and Condos are at high risk of at least one natural disaster. According to USGS there is a 99% chance of a major disaster every family faces in their life time.
QUAKECART is a life saver for families to sustain themselves until assistance becomes available. QUAKECART is a source for all your families basic survival needs, placed in a designated part of your home, easily accessible. When you are your family is in a disaster, most probably you will loose your water, power and fuel supply.
QUAKECART comes in three family sizes ranging from $275 to $390. These carts carry solar power generator to run your lights, cell phones, laptops and other small appliances, refillable water containers, dynamo self powered lantern, Radio, flashlight, portable gas stove with butane canister fuel, fire extinguisher, thermal blankets, fire starter, spare batteries and water proof tarp.
QUAKECART is priceless for peace of mind and family safety. These carts come fully assembled and available for pre-order starting in Jan 2016.
www.topbestsurvivalkits.com