National Institute for Fitness and Sport Partners with Lenbrook Community to Provide Personalized Fitness Programming to Their Residents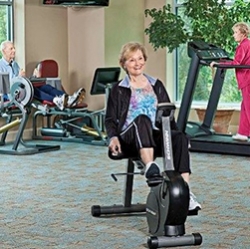 Indianapolis, IN, January 04, 2016 --(
PR.com
)-- The National Institute for Fitness and Sport (NIFS) is pleased to announce a partnership with Lenbrook, a continuing care retirement community in Atlanta, GA.
Lenbrook is a well-respected upscale continuing care retirement community (CCRC) in the Buckhead area of Atlanta, Georgia. As the only nationally accredited CCRC in Atlanta, Lenbrook thrives on high standards and they expect no less from their programming and events. One crucial part of that resident experience is the exercise program. Lenbrook has outstanding amenities to help their members stay active and fit. And now, their partnership with NIFS will afford their members an opportunity to stay up to date on the latest in health and fitness through NIFS staff and services.
Daniel Van Brocklin, the Lenbrook fitness center manager, was hired by NIFS to implement new standards for fitness testing, exercise prescription, and new member onboarding. NIFS national footprint in senior living communities provides Lenbrook and Daniel with the backing and breadth of experience necessary to maintain the community's leadership position in Atlanta with excellent exercise-related programs and services.
As NIFS relationship with Lenbrook continues, the residents can expect more personalized service and customized programming along with some of NIFS turnkey programs like the Wellness Lecture Series, NIFS Balance Challenge, and Fitness Freeze. The community will also have continued access to NIFS leadership team for ongoing consulting on fitness center operations, equipment selection, and integration of exercise programming with the community's life enrichment programs and events.
In a CCRC, truly connecting the levels of care for residents is a hallmark of quality organizations. NIFS will support that model for Lenbrook by working collaboratively with dining services, physical therapy, and other areas throughout the community so that residents experience seamless transitions between departments both for programs as well as for their care.
Lenbrook is situated in the heart of Buckhead within Atlanta, GA. The not-for-profit organization is committed to providing a lifestyle where residents remain engaged and vital members of the community in the ways that are important to them. Through creative educational and social programming provided with topnotch service and best-in-class amenities, Lenbrook residents are enjoying a rich life. NIFS will be supporting their fitness center, pool, and group exercise classes as well as other opportunities for exercise outside of the community.
To find out more about Fitness Center Management by NIFS, call (317) 274-3432, e-mail mailto:bgarrity@nifs.org or visit http://www.wellness.nifs.org. NIFS media contact, Trudy Coler (317) 274-3432, email tcoler@nifs.org
National Institute for Fitness and Sport is a non-profit organization committed to enhancing human health, physical fitness and athletic performance through research, education and service.
Contact
National Institute for Fitness and Sport
Trudy Coler
(317) 274-3432
www.nifs.org
250 University Blvd
Indianapolis, IN 46202

Contact