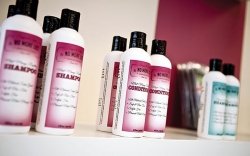 Minneapolis, MN, January 06, 2016 --(
PR.com
)-- Head lice treatment specialists, Sugar & Spice & No More Lice, have announced the online sales of their lice prevention and lice treatment products. The products are all-natural, salon grade, safe, and non-toxic. They do not contain any pesticides or harsh chemicals. A variety of shampoos and conditioners are available in addition to a lice repellent mint spritz and lice comb. Instructions are included about proper usage.
"Head lice have become increasingly resistant to over-the-counter and prescription products," says Dr. Jennifer DeChant, one of the owners of Sugar & Spice & No More Lice. "Our clinic uses these products to aid us in removal of lice and nits, and now we are making them available online to those who either cannot make it to our clinic or who want to attempt removal at home. In addition, all of the products can aid in head lice prevention."
Sugar & Spice & No More Lice is a head lice treatment clinic located in Blaine, MN. All products can be found on their website,
www.sugarandspiceandnomorelice.com
.