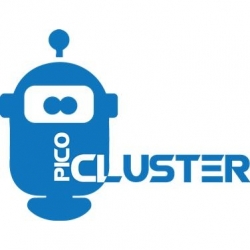 Las Vegas, NV, January 06, 2016 --(
PR.com
)-- In the Entertainment Capital of the World, the world's problem-solvers will be enthralled by the software realizing this concept. And the computers' company is focusing on a specialized education component for engineers, businesses and more.
PicoCluster, LLC will demo a Raspberry Pi 2 cluster, a personal data center, Jan. 6-9 at the Sands, booth 70974, at the International Consumer Electronics Show in Las Vegas, Nev.
"You can see the excitement in people's eyes when they are able to have a tiny robot respond to and interact with them," said Craig Brown, PicoCluster LLC founder and CEO. "It is a different kind of learning tool – nothing exists like it commercially."
PicoClusters are comprised of multiple physical computers that are networked. It can be used to learn all types of IT skills, including programming, quality assurance and operations. Through the network, a user is allowed to learn how to use clustered systems in a way that no other tool allows. And the user can have both a visual and tactile experience with the computers, an element unique to robotics. PicoCluster products can be held and touched and their work observed – activity lights are a feature.
Needing Big Data to survive, business' dilemmas are solved through PicoCluster. The speed at which data moves through a company is the speed at which it can make decisions since Big Data is critical to enabling business intelligence. Also, businesses struggle to find people they need or take great expense in simple prototyping.
As PicoCluster focuses on education, it is organizing a complete package that includes hardware, management software and educational materials to make software interaction fun as computing principles on PicoCluster are applied. A STEM grower, PicoCluster LLC seeks women authors to produce quality content to encourage more females and also youth to be involved in IT, continually building strong training material.
Meet a PicoCluster
In a 5-node PicoCluster, multiple Big Data applications can be run at the same time because the clusters are networked, with multiple micro-computers called Raspberry Pi 2s. The software is company standard, with all relevant features to duplicate a true data-center like environment. A small version or personal data center runs all of the Big Data and other software you would expect while remaining small and energy efficient, using only $2/month of power. The 5-node PicoCluster will be exhibited at CES Jan. 6-9.
Brown compares PicoCluster products, for the work of Big Data technologists, to the Ataris of the late 1970s that forever changed personal computers. The product comes during a wave of Big Data and the Internet of Things. Media outlets like "The Telegraph" listed the Internet of Things was one of six concepts it is anticipating at CES.
"Our world has so many problems. People can fix them. But they need tools," Brown added. "We have one – an important one."
About PicoCluster LLC
PicoCluster LLC is a personal data center and setting a standard for what it means to remove barriers to learning and operating Big Data software. It is doing so as society realizes a future of parallel and distributed reporting and the Internet of Things. It has built a training site specifically geared for its products. It offers an open-source app store and networks clusters. It is making products available on GitHub and at its website. Its supercomputer, "Pico," even comes in plushy form. Its media coverage includes The Arizona Republic, the Kansas City Star and the Las Vegas Review-Journal. For more information and to pre-order Pico with a single click, visit www.picocluster.com.