2015 BAIPA Book Award Winner, The Golden Chalice of Hunahpu, Released as an E-Book
2015 BAIPA Book Award Winner, The Golden Chalice of Hunahpu, by William Vlach, is now released as an E-Book. This literary historical novel that Kirkus Reviews has called "...enthralling," and has been compared to "the great tradition of Miguel Angel Asturias," is now available in e-book form.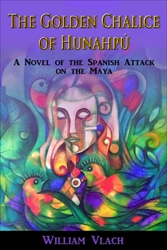 San Francisco, CA, January 07, 2016 --(
PR.com
)-- The Golden Chalice of Hunahpu, the 2015 Fiction Book Award winner of the Bay Area Independent Publisher's Association, is being released in ebook form through Amazon, Apple, Smashwords, Barnes and Nobles, Sony and other ebook stores.
The Historical Novel Society, in a recent review, praised the literary historical novel The Golden Chalice of Hunahpú: A Novel of the Spanish Attack on the Maya (Full Court Press, 2014). The reviewer, Charlotte Kirsch, states, "The Spanish conquest of the Mayan civilization in the 16th Century forms the dramatic climax of William Vlach's sweeping novel The Golden Chalice of Hunahpu, but the narrative is much more generous than that of simple military fiction; through a fascinating cast of disparate characters, Vlach dramatizes what he refers to as a 'sixteenth-century American holocaust.'"
The Golden Chalice of Hunahapú is an epic novel of the violent birth of the Americas, an odyssey moving from the pre-Columbian Mayan empire to the splendid Golden Age of Spain then back to the battle for the land and soul of Guatemala. The tale is told in three first person chronicles: Kaqchikel Mayan prince Belehe Qat is both witness and warrior as he tries to save his people; young and fierce Spanish noblewoman Beatriz pursues marriage to the powerful conquistador, Alvarado, only to find the New World is more than she bargained for; and the hilariously acerbic Domingo, a Sancho Panza-like monk, seeks to find meaning in the middle of this 16th century American holocaust. Their intertwining stories lead to the shocking volcanic climax.
Vlach, a police psychologist, who has done field work in Guatemala with his anthropologist wife, Norita Vlach, has published poetry, essays, and won awards for both his playwriting and parody.
Charlotte Kirsch ends her review for The Historical Novel Society by writing: "The book is barely three-hundred pages long but feels as satisfying as an epic three times that length."
The Golden Chalice of Hunahpú: A Novel of the Spanish Attack on the Maya is available at independent bookstores, Amazon.com, Barnes & Noble.com, and other online bookstores.
For more information and interviews about this new release, William Vlach may be reached at:
Phone: 415-681-6565
Email: williamvlach@gmail.com.
Web site: Willliamvlach.com
Blog: williamvlach.wordpress.com/
Facebook: The Golden Chalice of Hunahpú
Twitter: @vbvlach
Contact Information:
William Vlach
415-681-6565
Contact
http://williamvlach.com
Contact
William Vlach
415-681-6565
http://williamvlach.com

Contact