CUE Will Present Screening of Underwater Dreams at 2016 National Conference
Panel Discussion with the Documentary's Inspiration, teacher Allan Cameron following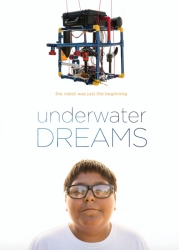 Walnut Creek, CA, January 08, 2016 --(
PR.com
)-- CUE announced today that it will present a screening of Underwater Dreams, immediately followed by a panel discussion featuring teacher Allan Cameron, at the CUE 2016 National Conference, to be held March 17-19, in Palm Springs, California. The screening will take place Wednesday, March 16, from 5:15 to 7:15 pm in Oasis 4 of the Palm Springs Convention Center. This is the first full-length feature screening that the CUE National Conference has hosted. The panel will be moderated by Jon Corippo, CUE's Director of Academic Innovation, and will include Dr. Cameron, and CUE members and fellow educators Julie Goo, Diane Main, Bill Selak and Sean Williams.
Dr. Allan Cameron (Ph. D. Elementary Education) taught computer programming at Carl Hayden High School in Phoenix, Arizona. He and fellow teacher Fredi Lagvardi started an after-school robotics team. The team and its underwater robot, Stinky, became the subject for the films Spare Parts & Underwater Dreams.
Underwater Dreams
, written and directed by Mary Mazzio and narrated by Michael Peña, is an epic story of how Mexican immigrants learned how to build an underwater robot from Home Depot parts and defeated engineering powerhouse MIT in the process. The competition, however, was only the beginning. These boys forged a legacy that could not have been imagined.
What: Welcome Session - Underwater Dreams Screening & Panel Discussion featuring Allan Cameron
When: Wednesday, March 16, 5:15 - 7:15 pm*
Who: Conference attendees and community members. Registration not required.
No host bar and light appetizers - come early!
*Note this is a new Keynote timeslot for the National Conference.
About CUE
Ed Tech Professional Development is at the core of CUE's work. We are passionate believers in advancing student achievement through technology. By providing Ed Tech professional development to schools, districts, and local educators on the infusion of emerging technologies, we can help better prepare students for college and careers ahead. | www.cue.org
About the CUE National Conference
The CUE National Conference is the largest and oldest education technology conference in California and among the largest in the United States with more than 6,000 teachers and administrators attending annually. To register or for more information, visit
www.cue.org/national
| #cue16
Contact
CUE
Dana DuRee
925.478.3460
www.cue.org

Contact