Champion Thread to Market Vipac Vinyl Packaging in Bedding and Fashion Market
The supplier of sewing threads and other sewn-products components is partnering with the leading manufacturer of vinyl packaging products to extend the market reach and application of vinyl zipper bags in the fashion, textile and broader soft goods manufacturing market.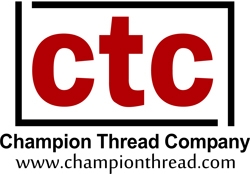 Gastonia, NC, January 08, 2016 --(
PR.com
)-- Champion Thread Company, LLC (CTC) and Vipac, Inc. announce a new marketing alliance that enables the threads, trims and components supplier to sell the Vipac line of vinyl zipper bags and packaging to bedding, home fashions, apparel and other soft goods manufacturers. The alliance promises to enhance the market reach of Vipac, already one of the world's largest providers of vinyl packaging, while extending the range of value-added solutions that CTC offers in the textile, sewn products and soft goods markets.
According to Vipac President Morris Abraham, "With their strong reputation and expertise in the bedding and home fashion markets, we are excited to be working with the Champion Thread team. We look forward to seizing the opportunities this alliance brings for both of our companies and the industries we serve."
Matt Poovey, CTC Vice President of Sales and Operations noted, "We are proud to be able to offer the popular Vipac line to our diverse customer base. Their packaging products fit nicely with our strategy of matching a broader range of products with our recognized service and support capabilities to help our customers streamline and accelerate their processes and supply chain."
"We have already begun marketing the Vipac line and are seeing immediate strong demand in both basic and fashion bedding," added CTC Director of Sales and Marketing Jim Lee. "We look forward to sharing these quality products with all our clients across the textile, home fashion, apparel, and other soft goods markets we serve."
About Vipac
Founded in 1947, Vipac has grown into one of the largest suppliers of vinyl bag packaging and products in the world. The 3rd generation family-owned business has established a diverse range of manufacturing capabilities and specializes in custom and in-stock vinyl bags and packaging for a variety of industries including home fashions and textiles, toys, cosmetics, health and beauty, apparel, sporting goods and other retail softlines. Vipac also produces and markets consumer products packaging for the home and custom retail packaging through its Closet Complete and Prime Line Packaging divisions. For more information, visit www.vipac.com.
About Champion Thread
Founded in 1979, Champion Thread Company (CTC) is a privately-held developer, manufacturer and marketer of premium industrial sewing threads, yarns, brand identification products, elastic and narrow fabrics, labels, decorative ribbons, and other soft goods components. Headquartered in Gastonia, NC, the company distributes its products directly to manufacturers of apparel, bedding, carpet, home fashion, industrial and other sewn products worldwide.
CTC prides itself on providing high quality products at competitive prices. With an unwavering commitment to quality, service and customer satisfaction, CTC is world-renowned for its unmatched technical knowledge and innovative solutions to customer problems. To learn more, visit
www.championthread.com
.
Contact
Champion Thread Company
Jim Lee
704-867-6611
www.championthread.com

Contact