CUE Connect Allows Remote Participation in 2016 National Conference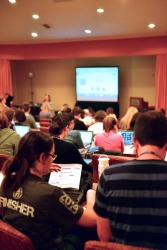 Walnut Creek, CA, January 12, 2016 --(
PR.com
)-- CUE is excited to announce that educators unable to attend the 2016 National Conference to be held March 17-19 in Palm Springs, California may do so by attending CUE Connect.
This first CUE Connect will be held at the Orange County Department of Education's Conference Center, in Costa Mesa, California. CUE intends to explore other venue options in future years. Attendees of CUE Connect will see all three keynotes -- Brad Montague, Hadi Partovi and Pearl Arredondo -- and have a choice among four sessions per hour, with four sessions each of the three days. By gathering together at OCDE, CUE Connect attendees can also engage in hallway conversations and network with fellow attendees. Coffee and lunch provided for all three days.
CUE Connect Schedule:
March 17: 8:00 am - 4:30 pm
March 18: 7:30 am - 4:30 pm
March 19: 8:00 am - 4:00 pm
Registration is only $149 for three days. For more information or to register, head to
cue.org/conference/cueconnect.
About CUE
Ed Tech Professional Development is at the core of CUE's work. We are passionate believers in advancing student achievement through technology. By providing Ed Tech professional development to schools, districts, and local educators on the infusion of emerging technologies, we can help better prepare students for college and careers ahead. |
www.cue.org
About the CUE National Conference
The CUE National Conference is the largest and oldest education technology conference in California and among the largest in the United States with more than 6,000 teachers and administrators attending annually. To register or for more information, visit www.cue.org/national | #cue16
Contact
CUE
Dana DuRee
925.478.3460
www.cue.org

Contact