2016 National Parenting Product Award Goes to StickerKid
StickerKid was just awarded with the prestigious National Parenting Products Award Seal. Families are encouraged to label everything for their children while attending daycare, pre-school, school, camp or after school activities, and StickerKid has an award-winning solution for this.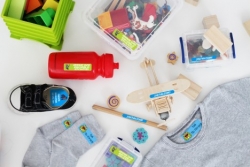 Miami, FL, January 15, 2016 --(
PR.com
)-- StickerKid, a leader in kid's
personalized washable labels
, just announced that their labels have been awarded "2016 Winner" from The National Parenting Product Awards. N.A.P.P.A is one of the oldest and most respected awards programs in the nation with over 25 years of experience in the industry. They are continuously celebrated as the "to-go" source for parents and professionals seeking the best products for their children and families.
How they do it?
The National Parenting Product Awards recruits a team of independent expert judges and family testers to review each product thoroughly. Together, they select the most entertaining, appealing, safe, educational, age-appropriate and enduring products as NAPPA winners. A NAPPA recognition is more than just a seal of approval. It signifies that a product has been rigorously evaluated against stringent criteria and that it stands out among hundreds of similar products from around the world. Products that receive the prestigious NAPPA award are quality products that parents and professionals can trust.
"We're excited that StickerKid is joining this year's list of award-winning products," says Julie Kertes, NAPPA General Manager. "The customization process was fun and easy and the labels look great! With NAPPA's vote of confidence, StickerKid is sure to be a welcome addition to anyone's must-have
camp and back-to-school list.
"
"These labels are great! I love that you can customize the font, color and size to whatever you desire. The quality of the label is top notch and an added plus is that there are so many cute graphics to choose from." -Cheryl Nahmias, Parent Tester
About StickerKid
Made with top quality materials, the latest technology and eco-friendly, non-toxic ink, StickerKid washable labels are a perfect choice for labeling all babies, toddlers and kids belongings used at daycare, school, camps and after-school activities. With hundreds of options and possible combinations of Colors, Fonts and Icons, StickerKid will allow kids to stamp their own personalities and truly make all their belongings as unique as they are.
Parents, teachers and caregivers are thankful and pleased with these labels as they keep items from being lost and mixed-up, help them get organized faster and saving time and money. StickerKid takes pride in producing the most resistant, washer & dryer, and dishwasher safe labels. Since they are 100% personalized, text can be as simple as a name, or customized to include a wide selection of information such allergy alerts, contact information, or medical conditions.
"We are overjoyed by the positive response of NAPPA judges and we feel tremendously honored to be an Award Winner," said Luisa Mariscal, StickerKid's Spokesperson. "The StickerKid Team truly values this renowned award and to be endorsed by such a valued family resource confirms our passion in providing the best product to other families."
Contact
StickerKid
Luisa Mariscal
305-901-1460
www.stickerkid.com/usa_en/

Contact