Kentucky Foundation Creates New Senior Healthy Meal Program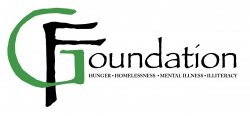 Louisville, KY, January 20, 2016 --(
PR.com
)-- GFOUNDATION, a Louisville-based nonprofit, launches GMeals-On-Wheels to reduce senior hunger in Kentucky, by providing free healthy meals to seniors in need of food assistance, who are on the Louisville Metro Senior Nutrition Home Delivery Meal Program's waiting list.
GMeals-On-Wheels is an innovative senior nutrition meal program that offers qualified seniors five free weekly meals, specially crafted following medically-recommended guidelines, in order to assist in preventing and reversing some chronic illnesses caused by unhealthy eating practices. All meals are fresh, healthy, gourmet, gluten-free, and contain no added preservatives, sodium, trans-fats, and are never frozen.
The GMeals-On-Wheels program is supported by both individual and corporate donations to the GFoundation, and GMeals, a Louisville-based healthy meal company, will prepare and in turn deliver the program's meals.
"The GFOUNDATION Board Members and I are excited to announce the launch of this new and revolutionary meal program for seniors. It is our belief that seniors deserve fresh healthy nutritious food during their golden years of life." - Dr. Shiao Woo – Board Chair
About GFOUNDATION: GFOUNDATION was conceptually created in 2013 by John Shaw-Woo, and in 2015, the GFOUNDATION Executive Board was established to focus on the mission of reducing Kentucky poverty associated with hunger, homelessness, mental illness and illiteracy. The GFOUNDATION Board Members consist of Madeline Abramson, Terri Bass, Rachel Keens, Janice Levitch De La Blanc, Linda Shapiro, Dr. Mark Slaughter, John Shaw-Woo, Christine Stone, Dr. Shiao Woo, and Susan Yarmuth.
Contact
GFoundation
Christine Stone
502-333-2111 Direct / 502-777-6307 Office
www.GFoundation.org

Contact