Minneapolis Boutique Tile Shop Introduces, "Savvy Saver Tile" for Kitchen and Bathroom Projects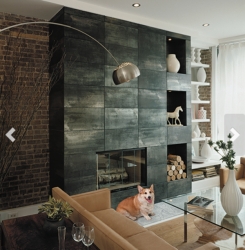 Minneapolis, MN, January 30, 2016 --(
PR.com
)-- Fantasia Tile & Stone, is thrilled to re-introduce Savvy Saver Tile to designers and homeowners. Every tile in the collection is priced under $15 per square foot. The collection includes glass mosaic tile, natural marble and limestone, porcelain and ceramic tile.
In 2015, Fantasia Tile & Stone celebrated its 35th year selling unique tiles to designers and homeowners in the Twin Cities and all over the upper Midwest region. Fantasia is a boutique tile shop in IMS Design Center with a small, dedicated and expert design consulting team. They work hard to provide the classics like Italian marble and subway tile while also staying ahead of trends and styles. Fantasia is famous in Minneapolis as the place to go for new tile ideas.
Fantasia Tile & Stone works with tile designers and artists, as well as marble and stone companies all over the world to offer the sophisticated Minnesotan homeowner amazing products. Many designers like to use Fantasia because it is easy to customize the tile to fit individual products. This allows the homeowner and the designer to realize their vision of the home.
While it is important for the brand and the bottom line for Fantasia to offer high-end products, it is also notable that Fantasia offers competitive tiles as well. Fantasia offers ceramic tiles from Spain, for instance, that is extremely cost effective and attractive. It is the perfect way to offset the cost of that amazing backsplash or custom kitchen; use affordable porcelain for the mudroom floor or reasonable ceramic mosaic for the shower.
Savvy Saver Tile includes:
· Italian porcelain with the look of wood, stone or with architectural graphic print design elements
· Italian marble and other natural stone
· Ceramic tile from Spain
· Glass tile
· Kitchen Backsplash tile
· Bathroom and shower tile
Fantasia Tile & Stone has long valued relationships with importers, mosaic artists and tile designers that helps them offer stunning tiles for big box store prices.
Savvy Saver Tile by Fantasia Tile & Stone
275 Market Street, Suite 102
Minneapolis, MN 55405
(612) 338-5811
www.fantasiaTileandStone.com
Contact
Jesse Diamond - Founder, Optimize Digital
612-338-5811
www.optimizedigitalonline.com

Contact