Rentricity to Provide "Micro" In-Pipe Hydropower Solution to Colorado & Utah Projects
Town of Grand Lake, Colorado and Ferron, Utah to install equipment package for under 10kW - sized hydro energy recovery.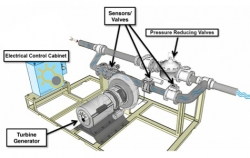 New York, NY, February 02, 2016 --(
PR.com
)-- Rentricity Inc., the innovative in-pipe hydropower clean energy company located in New York City has commenced its first "micro" in-pipe hydropower projects in Colorado and Utah. Rentricity Flow-to-Wire™ and SEMS™ systems capture excess pressure and flow within gravity-fed water distribution pipelines, converting it into clean energy for the electric grid or the customer's onsite use. The two sites, located within the Town of Grand Lake, Colorado and Ferron, Utah, represent the Company's new focus on cost-effectively addressing smaller sites found in drinking and industrial water infrastructure.
The Town of Grand Lake will install a 6.5-kilowatt system at the inlet of its facility and supply the power to the local grid. "Our unique recreational town will now be enhanced with the installation of sustainable water technology taking advantage of the gravity-fed water from our pristine, surrounding Rocky Mountains!" said Jim White, Town Manager. Castle Valley Special Service District, in Emery County, Utah will install a 6-kilowatt system at the inlet of their new Ferron Water Treatment Plant. This system will be installed "behind the meter" allowing the plant to receive and use all the power generated from the water flow and gravity-fed pressure. "Combined with other energy saving features, this system will help us reduce our energy footprint in our new facility," says Jacob Sharp, District Manager for the Castle Valley Special Services District.
"With lower permit hurdles, these systems can easily be fitted for industrial water 'microgrids' as well," says Al Spinell, COO and Co-founder. "We are now targeting data centers, pharmaceutical, food and beverage processing facilities that use large amounts of gravity-fed water on a daily basis," he added. Rentricity's systems are a perfect solution for water operators seeking to eliminate electricity costs at facilities with sustainability goals. Rentricity is also supporting irrigation systems upgrading open channels to solid pipe infrastructure to reduce evaporation.
About Rentricity Inc.
Rentricity Inc. (www.rentricity.com) is the nation's leader in producing clean, renewable energy from in-pipe hydropower applications in drinking water distribution systems, irrigation and industrial water systems. The Company, a graduate of NYC's cleantech incubator, the Accelerator for a Clean & Renewable Economy (NYC ACRE), is based at 175 Varick Street, New York, NY 10013.
Contact
Rentricity Inc.
Frank Zammataro
732-319-4501
www.rentricity.com

Contact